You are here:
Home
› Global Imbalance and Social Inclusion 2022 Round-Up
The Irish Global Health Network (IGHN) Conference – Global Imbalance and Social Inclusion was co-hosted with the HSE Global Health Programme and sponsored by Irish Aid. The conference was a hybrid event and was held on 26th and 27th October 2022.
Scroll down the page to see videos and presentations of participants.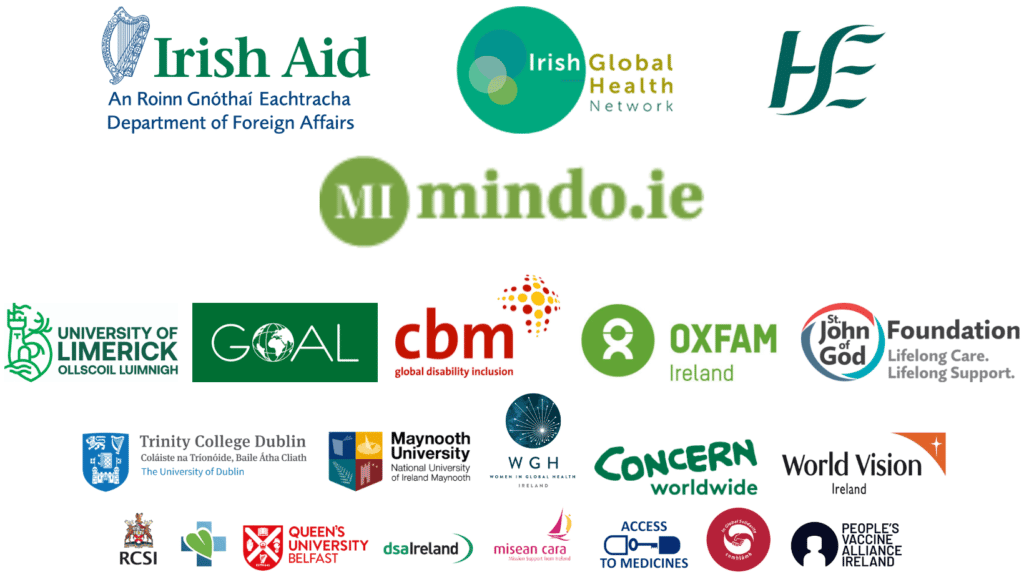 CONFERENCE PROGRAMME
EVENT SUMMARY
SPEAKER BIOS
ABSTRACT BOOKLET
ONLINE POSTERS
PHOTOS
RECORDINGS
HIGHLIGHTS VIDEO
CONFERENCE PARTNERS
EVALUATION
Day 1 and Day 2 MCs

Dr David Weakliam, Global Health Programme Director, HSE

Nadine Ferris France, Executive Director, IGHN
Welcome and Opening Remarks

Professor Emma Stokes, Vice President for Global Engagement, TCD

Dr Enida Friel, IGHN Board Member and Head of Monitoring, Evaluation, Accountability and Learning, GOAL

Michael Gaffey, Director General, Irish Aid

Sarah O'Toole, CEO, CBM Ireland

Dr Khalifa Elmusharaf, Chairperson of IGHN Board and Associate Professor in Public Health, Director of Public Health Programme, University of Birmingham Dubai
Morning Plenaries
Keynote Speakers

Dr Colm Henry, Chief Clinical Officer, HSE
Day 1: Health Systems Resilience

Siobhan Walsh, CEO, GOAL
Day 1: Health Systems Resilience

Dr Mike Ryan, Executive Director of Health Emergencies Programme, WHO
Day 2: Leadership, Representation, and Inclusion

Robbie Lawlor, Activist, Co-founder Access to Medicines Ireland
Day 2: Leadership, Representation, and Inclusion
Co-Chairs

Jim Clarken, CEO, Oxfam

Aidan Desjardins, Student Rep, IGHN Student Outreach Team

Anne Holmes, Health Policy Co-Lead, DFA's Development Cooperation and Africa Division, Irish Aid

Dr Ciara Conlan, Co-founder, Access to Medicines Ireland and Doctors for Vaccine Equity
Afternoon Plenaries
Panelists

Dr Julian Eaton, Mental Health Director, CBM Global
Day 1: Access to Healthcare

Pamela Molina Toledo, Executive Director, World Federation of the Deaf
Day 1: Access to Healthcare

Dr Margaret Fitzgerald, Former National Public Health Lead Social Inclusion and Vulnerable Groups, HSE
Day 1: Access to Healthcare

Dr Mary Keogh, Advocacy Director, CBM Global
Day 2: Women in Leadership

Eunice T Phillip, Global Health PhD scholar, RCSI and national coordinator of the Student Outreach Team, IGHN
Day 2: Women in Leadership

Ailbhe Smyth, Activist, Academic, Chairperson of Women's Aid
Day 2: Women in Leadership

Dr Frederique Vallieres, Director of the Centre for Global Health, Trinity College Dublin
Day 2: Women in Leadership
Moderators

Priscilla Lynch, Clinical Editor, Medical Independent
Day 1: Access to Healthcare

Audrey Carville, Journalist, RTE
Day 2: Women in Leadership
Day 1 Evening Sessions
Sally Hayden Book Launch

Sally Hayden, Journalist and Photographer
'My Fourth Time, We Drowned' Book Launch
Pre-recorded interview with Sally Hayden
Trigger Warning: sexual violence, suicide
Day 1 Round Up - Comments and Takeaways

Nadine Ferris France, Executive Director, IGHN
Women in Global Health Ireland Launch

Morgane Clarke and Tejaswy Swathi introduce delegates to the Ireland chapter of Women in Global Health
Lancet Countdown Launch 2022 Report and Policy Briefs
Speakers

Prof Karyn Morrissey, the Lancet Commission

Dr Ina Kelly, Consultant in Public Health Medicine
Session Chair

Dr Tim Collins, CEO Irish Heart Foundation and Spokesperson, Climate Health Alliance
WGH Ireland Workshop: Gender Equality for Global Health: Leadership in Politics, Public Life & the Workplace
Speakers

Ailbhe Smyth, Activist, Academic, Chairperson of Women's Aid

Peggy Maguire, Director General of the European Institute of Women's Health
Key Correspondents Summary

Dr Ian Hodgson, Associate Editor of the journal Ethnicity and Health, and Academic Supervisor for Global Health-Based Research Studies
Parallel Sessions
Day 1 Morning Session 1: Health Systems Resilience - COVID-19

Marie Hallissey
From Health Crisis to Health Resilience – A Systems Approach to Resilient Health

James Larkin
How did the Irish State respond to global COVID-19 vaccine inequity

Niamh Caffrey
Trust in a Time of Crisis

Dr Pieternella Pieterse
Unsalaried Health Workers in Sierra Leone
Day 1 Morning Session 2: Mental Health and Wellbeing

Dr Charles Masulani Mwale
Effectiveness of an intervention in reducing distress among caregivers of disabled children

Dr Katie McQuillan
A Systematic Review of Effective Education-Based MHPSS Practices for Migrant and Refugee Youth

Dr Tania Bosqui
Including fathers in mental health and psychosocial support (MHPSS) for at-risk adolescents

Dr Shona Jane Lee
Health inequalities among young people in Ireland: an exploratory stakeholder analysis

Julia Corey
My LGBTI+ Voice Matters: The Views and Experiences of LGBTI+ Mental Health Service Users in Ireland
Day 1 Morning Session 3: Community Engagement for Health

Frank Aldo Okello
Community Participation to Build and Sustain Local Capacity for Health Service Delivery, South Sudan

Geraldine McCrossan
Community Led Action (CLA): putting communities at the centre of the COVID-19 response

Eunice T Phillip
Removing the tick-box process from community participatory approaches
Day 1 Afternoon Session 1: Community Response for Resilience

Aida Mohajeri and Margaret Turley
Special Olympics International: Supporting families of Special Olympics athletes during COVID-19

Prof Sarah Miller
Participation in early childhood programmes and social cohesion in Mali

Marie Hallissey
A Mapping of GOAL's Cash, Vouchers and Social Protection Interventions Linked with Health
Day 1 Afternoon Session 2: Human Resources for Health

Lucia Brocato
An "Ireland Inc." Response to the Surgical Care Crisis in East, Central and Southern Africa

Dr Emily Wallace
Postpartum Haemorrhage in Low-Resource Settings: Barriers to Treatment and Enabling Solutions

Dr Charlene McShane
Non-communicable diseases and the caring role in Uganda

Habtamu Mekuria
Direct Nutrition Service Provision by CONCERN Sudan to Government Lead Delivery Through Empowerment
Day 1 Afternoon Session 3: Conflict

Dr Zenon Ndikuriyo
Mobile Clinics: Alternative Model of Care in Conflict-Affected Settings Within COVID-19 Context Chad

Dr Jessica Mc Girr and Dr Aoibhinn Walsh
Crisis, conflict and children's health: The CHI response to the Ukrainian conflict

Molly Gilmour
Exploring the Challenges and Potentials of Using Participatory Methods in Humanitarian Medical Care

Dr Michael Hanrahan
Estimating the prevalence of HIV among Ukrainian refugees in Ireland
Day 2 Morning Session 1: Local and Global

Dr Johannes Alfons Karl
Assessing global health: Are you sure you are measuring what you think you are measuring?

Dr Ines Peric
Global Surgical Training Challenge Mentorship Programme – Supporting Innovation in Surgical Training

Isobel Stanley
Irish Fruit and Vegetable Imports from Climate-vulnerable Countries.

Dr Collette Kirwan
Using Mobility Learning in Enhancing Nurse Education on Global Health Inequalities

Dr Tessa O' Gorman
HepCare Plus: Enhancing Primary Care Identification & Treatment of Hepatitis C in High-Risk Patients
Day 2 Morning Session 2: Social Inclusion and Marginalisation - Child and Adolescent Health

Aline Conayisavye
Social Mobilisation to Prevent Child Malnutrition and Key Childhood Illnesses in Burundi

Dr Jessica Mc Girr
Social adversity and Healthcare Provision: A snap shot of considerations for child health in Ireland

Dr Laura Dunne
Exploring Developmental Outcomes for Children attending Community-based Pre-Schools in Timor-Leste

Dr Aoibhinn Walsh
Paediatric Inclusion Health: Equitable healthcare for children experiencing social adversity

Dr Siobhán Neville
Improving Outcomes for Children Living in Homelessness: a Scoping Review
Day 2 Morning Session 3: Empowerment - Health Care Leadership and Representation

Gareth Jones
The experiences of young leaders implementing HIV prevention in humanitarian settings

Dr. Maina Edwin Mbugua
Empowering mothers & caretakers to screen U5 children for malnutrition using Family MUAC in Kenya

Rachael Twinem and Kate Brownlow
Who is accountable for equity? An analysis of the critical actors in COVID-19 vaccination response

Dr Flory Amundala
Cash Transfers for Emergency Healthcare in Humanitarian Settings: the Case of Burkina Faso
Day 2 Afternoon Session 1: Social Inclusion and Marginalisation - Adult Health

Kisira Yeeko
Susceptibility of persons with disabilities to landslides in Mount Elgon, Eastern Uganda

Dr Eoin Somers
Migrants and the Exacerbation of Inequities Associated with the Emergence of Monkeypox in Ireland

Katie Essene Deevy
Rockcourt Medical: Social Prescribing in an Irish General Practice

Dr Paula Quigley
Improving Nutrition Programming to Reach Vulnerable Populations: Practical Guidance for Implementers
Day 2 Afternoon Session 2: Tackling Stigma

Tazeen Hossain
Shibalaya Health Model – making mainstream health services inclusive in Bangladesh

Hatty Barthorp
The importance of key influencers & an enabling environment for healthy behaviours: Ethiopia

Dr Brendan O'Shea
Using IBSR to address self stigma in people with severe spectrum obesity attending general practice

Conor Maguire
Attitudes of teachers in Bulgarian kindergartens towards inclusive education
Day 2 Afternoon Session 3: Models of Care and Equitable Health Care Delivery

Dr Emranul Haq
Health Financing: A Sustainable Social Protection Measure for Vulnerable Urban Poor in Bangladesh

Dr Gillian Manchip and Adele Mazzoleni
Exploring barriers and facilitators to Surgery for people experiencing homelessness in the UK

Catherine Jamison
Establishing diabetic eye screening in Dodoma, Tanzania

Dr Katie Curran
CHILDSTAR: CHIldren Living with Diabetes See and Thrive with AI Review

Emma Pettey and Paul Liton
Integrated Health & Rehabilitation Services in Mass Displacement: A model for inclusive healthcare
Co-Chairs For Parallel Sessions

Dr Lesley O'Hara, General Manager, St. John of God Research Foundation
Co-chair for Day 1 Morning Parallel Session 1: Health Systems Resilience – COVID-19

Amy Ennis, Recruitment Coordinator, 2into3 Nonprofit Recruitment
Co-chair for Day 1 Morning Parallel Session 1: Health Systems Resilience – COVID-19

Thora Burgess, General Manager, HSE Global Health Programme
Co-chair for Day 1 Morning Parallel Session 2: Mental Health and Wellbeing

Aoibhinn Collery, Conference Officer and Intern, IGHN and ESTHER Ireland
Co-chair for Day 1 Morning Parallel Session 2: Mental Health and Wellbeing

Dr Nuha Ibrahim, Lecturer in Public Health, University of Limerick
Co-chair for Day 1 Morning Parallel Session 3: Community Engagement for Health

Dr Enida Friel, IGHN Board Member and Head of Monitoring, Evaluation, Accountability and Learning, GOAL
Co-chair for Day 1 Afternoon Parallel Session 1: Community Response for Resilience

Ben Davison, Master Graduate of Development Practice, TCD
Co-chair for Day 1 Afternoon Parallel Session 1: Community Response for Resilience

Dr Frederique Vallieres, Director of the Centre for Global Health, Trinity College Dublin
Co-chair for Day 1 Afternoon Parallel Session 2: Human Resources for Health

Jill Pati, Masters of Public Health Student, University of Limerick and Practicum Student, Doras
Co-chair for Day 1 Afternoon Parallel Session 2: Human Resources for Health

Jacinta Greene, Nutrition and Health Study Group Coordinator, Development Studies Association of Ireland, and Paediatric Dietitian, Children Health Ireland (CHI)
Co-chair for Day 1 Afternoon Parallel Session 3: Conflict

Fatima Mahi, BSc Health and Society Student, Dublin City University
Co-chair for Day 1 Afternoon Parallel Session 3: Conflict

Dr Unarose Hogan, Senior Infection Control Advisor, Americares Foundation, and IGHN Board Member
Co-chair for Day 2 Morning Parallel Session 1: Local and Global

James Larkin, Health & Vaccine Equity Coordinator, Oxfam Ireland
Co-chair for Day 2 Morning Parallel Session 1: Local and Global

Pamela Molina, Executive Director, World Federation of the Deaf
Co-chair for Day 2 Morning Parallel Session 2: Social Inclusion and Marginalisation – Child and Adolescent Health

Prince Banda, Global Health Social Worker
Co-chair for Day 2 Morning Parallel Session 2: Social Inclusion and Marginalisation – Child and Adolescent Health

John Fleming, CEO, Saint John of God Foundation
Co-chair for Day 2 Morning Parallel Session 3: Empowerment – Health Care Leadership and Representation

Anne Cronin, Social Care Manager, Homeless Healthlink Team, HSE
Co-chair for Day 2 Morning Parallel Session 3: Empowerment – Health Care Leadership and Representation

Niamh Caffrey, Health Project Officer, Misean Cara
Co-chair for Day 2 Afternoon Parallel Session 1: Social Inclusion and Marginalisation – Adult Health

Meaghan Higgins-Coyne, Admin Assistant, Misean Cara
Co-chair for Day 2 Afternoon Parallel Session 1: Social Inclusion and Marginalisation – Adult Health

Dr Steve MacDonald, Lecturer in Public Health, University of Limerick
Co-chair for Day 2 Afternoon Parallel Session 2: Tackling Stigma

Maria Gonzalez, Programmes Officer, Beyond Stigma
Co-chair for Day 2 Afternoon Parallel Session 2: Tackling Stigma

Dr Ines Peric, Education Programme Officer in the RCSI Institute of Global Surgery
Co-chair for Day 2 Afternoon Parallel Session 3: Models of Care and Equitable Health Care Delivery

Tuba Yavuz, MSc in Global Health Graduate
Co-chair for Day 2 Afternoon Parallel Session 3: Models of Care and Equitable Health Care Delivery
Our
Flickr Photos
[AFG_gallery]
Subscribe to Newsletter
Sign up to become a member and receive our weekly updates