Sign Your Support Here FOLLOW US ON TWITTER EMAIL US Supporter List

MISSION STATEMENT

Doctors for Vaccine Equity aim to highlight the vast inequities in COVID-19 vaccine access worldwide. We are calling for the Irish government to support the World Health Organization (WHO) recommendations on global vaccine equity including the following actions:
Support the TRIPS waiver to allow vaccine production in the Global South as a sustainable solution

Facilitate urgent global redistribution of current vaccine supplies and commit to rational purchasing to avoid vaccine hoarding and wastage

Ensure that any strategy for booster vaccines is ethical within a global context
---
We are seeking colleagues within the Irish medical community to help us show the strength of support for these aims by signing above at the "Show Your Support" button. Please note that your name will appear on our site within 3-5 days of submission.
---
Irish doctors who have signed their support
Doctors for Vaccine Equity aims to bring together doctors in Ireland who wish to support equitable global access to COVID-19 vaccines. We are a partner group of the People's Vaccine Alliance of Ireland and the Irish Global Health Network and are guided by the recommendations of the World Health Organisation. The group welcomes support from all doctors who share its objectives.
The people of Ireland have achieved incredible vaccination rates, approaching 90% of those eligible. This has greatly reduced virus transmission, illness and death, and has allowed for the reopening of society. This national success however is falsely reassuring. Only 8.1% of people living in low income countries have received at least one dose of a COVID-19 vaccination, falling well short of the Global COVID-19 Vaccination Strategy which aimed to inoculate 40% of people in all countries by the end of 2021, and 70% by the middle of 2022. Ongoing high levels of transmission among unvaccinated populations risks viral mutation and the emergence of vaccine resistant strains which would put the entire global vaccine programme in jeopardy. Although data is still being compiled, there are concerns that Omicron may represent such a variant, where the effect of current vaccines is reduced. If all populations do not have access to vaccination, Omicron will not be the last worrying variant to develop.
Global access to COVID-19 vaccines is essential in order to bring the pandemic to an end. The current shameful vaccine inequity has been described as the single biggest moral and scientific failure of the crisis, and that is why we as doctors in Ireland are coming together to advocate for change.
TRIPS WAIVER
At present, vaccine production remains in the control of a handful of pharmaceutical companies whose priority is to sell vaccines to countries in the Global North. It is only by facilitating generic production that the geographical spread of manufacturing capacity and an adequate vaccine supply can be guaranteed. For this to come about Ireland must advocate for the support of the TRIPS (Trade Related aspects of Intellectual Property Rights) waiver at EU level.
The TRIPS waiver is a motion put to the World Trade Organization to temporarily waive intellectual property rights for health technologies needed to prevent, contain, or treat COVID-19, and complements the WHO COVID-19 Technology Access Pool (C-TAP). This waiver would remain in place "until widespread vaccination is in place globally, and the majority of the world's population has developed immunity." Details of the TRIPS waiver are outlined here and here.
VACCINE REDISTRIBUTION
It is an ethical imperative to avoid vaccine hoarding and vaccine waste. Ireland and the EU must immediately seek to redistribute current vaccine supplies to countries with low vaccination rates. They could do so by swapping their near-term vaccine deliveries with COVAX, and by fulfilling their dose-sharing pledges immediately. The vaccine procurement strategy of the E.U and Ireland should be transparent, based on clinical need and designed to avoid wastage of doses.
It is important to note that while charitable donations towards vaccine purchase can be helpful in the short-term, they do not address the root causes of vaccine inequity and will not adequately increase the supply of vaccines. A recent report by Oxfam entitled 'A dose of reality' has shown that vaccine donations delivered have fallen well short of doses pledged. Any donations should be reported in terms of doses delivered and not pledged. We should avoid the approach of donating surplus or 'left-over' vaccines. This is problematic for many reasons, including local confidence in vaccine programs in the Global South. Expiry dates of donated vaccines should be reported.
BOOSTER PROGRAMMES
The Omicron variant has prompted some countries to expand booster doses to large portions of their populations, despite the fact that vaccination rates remain worryingly low in low-income countries. Under the current system where vaccine production is inadequate, more vaccines for people who have already been afforded protection of a first course means fewer doses for those who have not yet had any vaccine. More than a year after the introduction of COVID-19 vaccines, many healthcare workers and clinically vulnerable people in the Global South, including elderly and immunosuppressed, still do not have access to vaccines. It is vital that we remain cognisant of the fact that the primary aim of COVID-19 vaccination is to prevent severe disease and death. Ireland should support a global strategy which looks to use the available vaccination supply to most effectively reduce mortality in the first instance. As a global community, we are currently placing value on some lives more than others and this must stop.We support the WHO Interim Statement on COVID-19 vaccine booster doses, which states that vaccination policy should be evidence-based. It highlights the complexity of decision making and emphasises: "the importance of the prioritization of globally limited vaccine supply" further stating, "that prioritization should be given to the prevention of severe disease". We are advocating that everyone should have access to vaccines that afford them protection against COVID-19.
What have we done so far?
Since forming in September 2021, we have made good progress in raising awareness of these issues and petitioning decision makers:
1. Over 300 doctors have signed our mission statement so far. We also partnered with members of the scientific community who have also been signing their support. Both the DVE and scientific community petitions are still open to sign.
2. Our message has been formally supported by a range of healthcare and academic institutions including: including:
What can you do?
Email your TD [Link to your Constituency and current TDs] Feel free to use this prepared sample letter text
Click 'sign your support' above if you are a doctor working in Ireland
Follow @GiveEvery1aShot on twitter and amplify the message
Email us if you are interested in becoming more involved in the campaign
Resources:
COVID-19 vaccine strategies must focus on severe disease and global equity – The Lancet
Omicron: the global response is making it worse – Nature
MORE INFORMATION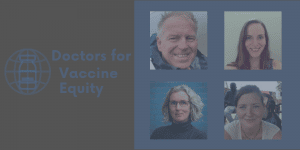 More information can be found on the People's Vaccine Alliance of Ireland website.
To contact us or to get involved, please email: DoctorsForVaccineEquity@gmail.com or find us on Twitter @GiveEvery1AShot
ORGANISING COMMITTEE
Dr. Ciara Conlan
Registrar in Medical Virology, Dublin

Dr Kieran Harkin
GP Inchicore Family Doctors and Inclusion Health Service, Dublin 8
Dr Christine Kelly
Infectious Diseases SpR , Dublin
Professor Susan Smith,
GP Inchicore Family Doctors, Dublin 8 and Professor of Primary Care Medicine, RCSI
Subscribe to Newsletter
Sign up to become a member and receive our weekly updates