Become a Sponsor of IGHN
March 28, 2022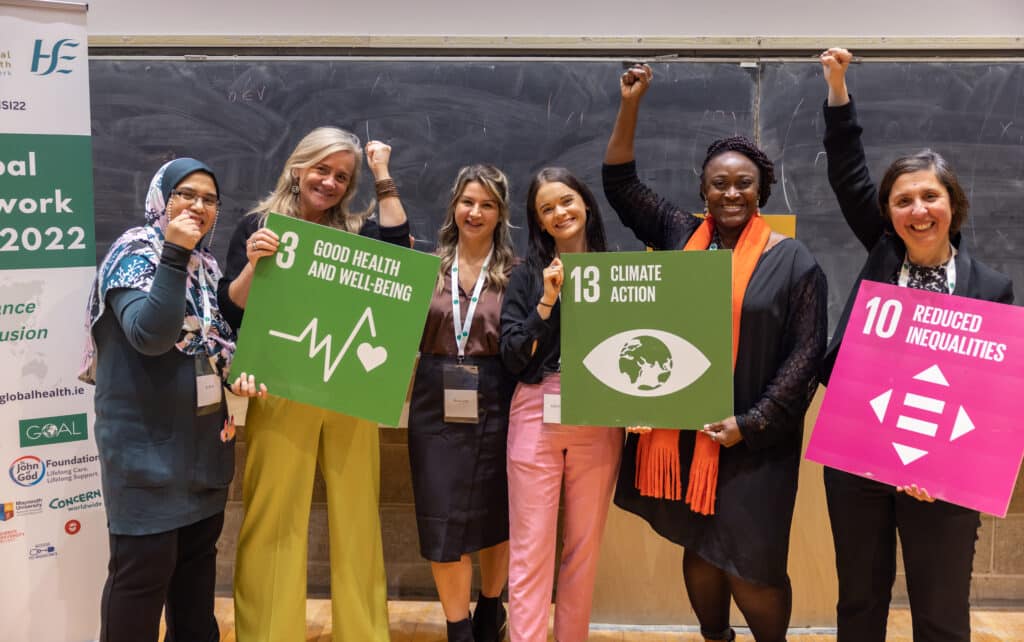 GET INVOLVED | BECOME A SPONSOR
We seek sponsorship in order to raise funds to continue the operations of the Irish Global Health Network, and to highlight and amplify organisations that are committed to supporting and improving global health initiatives and outcomes in Ireland and globally.
Becoming a sponsor of IGHN is a wonderful opportunity for your organisation. Apart from knowing that you are contributing towards achieving and sustaining good health and well-being in Ireland and globally, and transforming the global health community, you will also receive a range of benefits including some of the following;
Opportunity to promote your organisation at a stand in our Global Health Village, where relevant,
Opportunity to share online reports and resources on our event webpage,
Featured write-up about your organisation on IGHN website, newsletter, and social media,
Recognition in newsletter to 3000+ viewers,
Inclusion of logo and company mentions in all promotional material and social media (10,000+ followers) related to the event,
Logo on event webpage,
Organisation logo/name recognised as a sponsor in post-event "thank you" correspondence with participants,
Opportunity to promote your organisation to talented students and young professionals.
We provide tailor-made packages for sponsors at all levels of support.
Reach out to info@globalhealth.ie to learn more about how you can participate and support IGHN.
IGHN EVENTS AND CONFERENCES
IGHN events provide an excellent opportunity to help maximise Ireland's contribution to a world in which all people of all ages can achieve and sustain good health and well-being. We are working towards a better tomorrow and our events provide a unique opportunity to get involved in the pressing issues related to global health. They focus on topics such as HIV and AIDS; mental health; maternal and child health; climate change and the environment; equitable access to vaccines; water and sanitation; obesity and non-communicable disease along with other areas of intervention.
Our team has extensive experience in managing both in-person and online events for diverse, international audiences in the global health sector. Over the past three years alone, IGHN has hosted 40+ live web events with over 170 leading Irish and international speakers and with 27,000+ viewers. Our events and conferences have attracted audiences from 80+ countries.
The success we have enjoyed in hosting events has led to wide recognition among our peers about the success and wide reach of our international events. Our two-day flagship global health conference held bi-annually in the Autumn is currently the only global health conference held in Ireland.
If you would like to get involved in participating in or sponsoring our events or conferences, please email info@globalhealth.ie
IGHN PODCASTS
The IGHN podcast series Get Global – Global Health Talks is an interview series and archive of personal testimonies from some of Ireland's leading global health influencers including doctors, ambassadors, campaign advocates, activists, and media personalities who are leading the charge in their respective fields.
We have a new podcast series launching this year in partnership with Irish Aid, which will highlight Global Health projects and programmes supported by Irish Aid across partner countries in Africa & Asia. The series will use Ireland's International Policy Document 'A Better World' as a framework for questions and the focus will be on the rationale and impact of the project or programme and how that relates to the priorities outlined in A Better World.
To participate or support any of our podcast series, please reach out to info@globalhealth.ie
STUDENT OUTREACH TEAM
The IGHN Student Outreach Team was formed to give students a stronger voice in the IGHN. It is composed of a group of current students and recent graduates of courses related to global health and development across nine universities in Ireland. This group allows the students to contribute new and innovative ideas, helps ensure that the IGHN is meeting student needs, and provides members with exciting opportunities and connections in the field of global health. We also run a student podcast series, a series by students for students which focuses on the experiences of early-career professionals and undergraduate, graduate, and postgraduate students focused on global health.
The IGHN Student Outreach Team also run a number of student-led events and conferences throughout the year.
To foster creative and innovative thinking and develop a sustainable outlook among students, we will be conducting a "National Debate" in 2023 for which we are welcoming sponsors.
To participate or support our Student Outreach Team, please reach out to sotcoordinator@globalhealth.ie
OUR SERVICES
ONLINE AND IN-PERSON EVENTS
Our experienced team helps provide technical and strategic support for the organisation for both online and in-person events. We have 20 years of experience managing diverse, international audiences in the global healthcare sector. We provide support in pre- and post-event management, advertising, and coordination of participants of 500+ attendees.
If you require event support, please reach out to info@globalhealth.ie
GLOBAL HEALTH INCUBATOR
As part of our mission to constantly drive awareness within the Global Health community, we host a number of fledgling organisations on the globalhealth.ie domain including: Women in Global Health Ireland; Doctors for Vaccine Equity; and the Ireland Africa Alliance for NCDs.
The Global Health Incubator is for those working in the health sector to work towards overcoming common challenges experienced by start-up organisations. We support them with: hosting events; building an online presence; and growing to connect with a wider audience.
If you are interested in our incubator service, learn more here, and please reach out to info@globalhealth.ie
Subscribe to Newsletter
Sign up to become a member and receive our weekly updates