Women in Global Health Ireland Public Strategy Meeting
June 29, 2021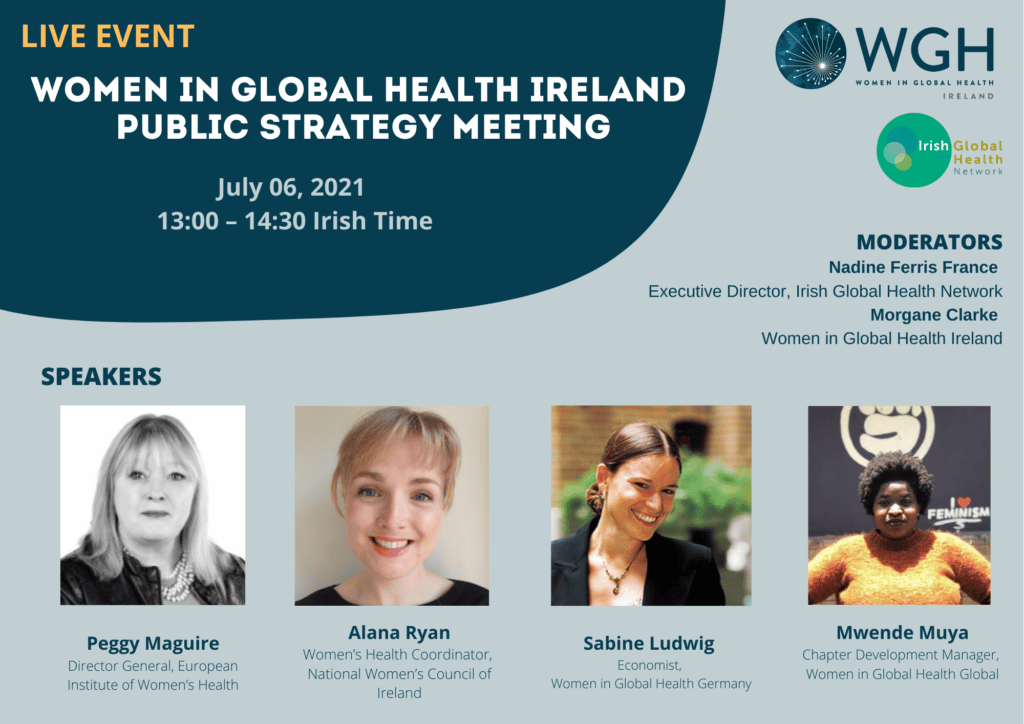 Date: 6th July, 2021
Time: 13:00 – 14: 30 Irish Time
How can we challenge power and privilege for gender equity in health in Ireland and abroad? Join us online, Tuesday 6th July, 13:00 – 14:30 Irish Time, to have your say in the design and direction of the Irish Chapter of the Women in Global Health (WGH) movement.
Watch Event
Speaker Bios
Our public survey highlighted key areas that Irish-affiliated women working in Global Health thought should be addressed: women in leadership; the gender pay gap; and workplace policies to support a balanced personal and professional life.
Speakers:
Peggy Maguire – Director General, European Institute of Women's Health; Women's Health Taskforce
Alana Ryan – Women's Health Coordinator, National Women's Council of Ireland
Sabine Ludwig – Economist, Women in Global Health Germany
Mwende Muya – Chapter Development Manager, Women in Global Health Global
Register for free to attend our event, and receive further updates on the agenda and our invited speakers.
Subscribe to Newsletter
Sign up to become a member and receive our weekly updates