WEBINAR SERIES – Irish Global Health Network and ESTHER Alliance for Global Health Partnerships
March 18, 2020
Webinar 18:

Health Partnerships during the pandemic: Contributions and lessons.
Date: 28th of August
Time: Fridays at 1pm Irish/UK Time (12pm GMT)
The COVID-19 pandemic has highlighted the importance of institutional health partnerships. In the time when most of the countries were urged to focus internally in order to fight the pandemic, health institutions from lower, middle- and high-income countries that are involved in long-term institutional partnerships held on their partnerships and continued in supporting, collaborating and exchange learning and expertise with their health partners.
JOIN THIS WEEK'S WEBINAR SIGN UP TO OUR NEWSLETTER
In this we webinar, we are inviting speakers to discuss the following:
What was the value of the institutional health partnerships for the partners involved during the COVID-19 pandemic?

How did different health partnerships respond to the pandemic? Practical example.

Lessons learnt from the partnership's response to the COVID-19 pandemic.
THIS WEEK'S SPEAKERS
Webinar Anchor: David Weakliam, HSE Global Health Programme Director
Francis Nyakoojo, Health and Nutrition Programme Manager, Concern Worldwide
Olimjon Saidmamatov, Researcher at Urgench State University
Joe Gallagher, National GP lead for heart failure with the Irish College of General Practitioners
Desalegn Bekele Taye, Healthcare quality and safety advocate professional
Moderators:
Nadine Ferris France,

Executive

Director

,

Irish

Global Health

Hala Ali, Co-coordinator for ESTHER Alliance for Global Health Partnerships
VIEW PREVIOUS WEBINARS and DOWNLOAD SLIDES RESOURCES FOR LMICs
ABOUT THE WEBINAR SERIES
This series of webinars focuses on healthcare professionals and overseas staff working in Global Health in the era of COVID-19. The webinars are held live each Friday hosting experts to discuss several COVID-19 topics relevant to health professionals working in global health.
COMPLETE WEBINAR EVALUATION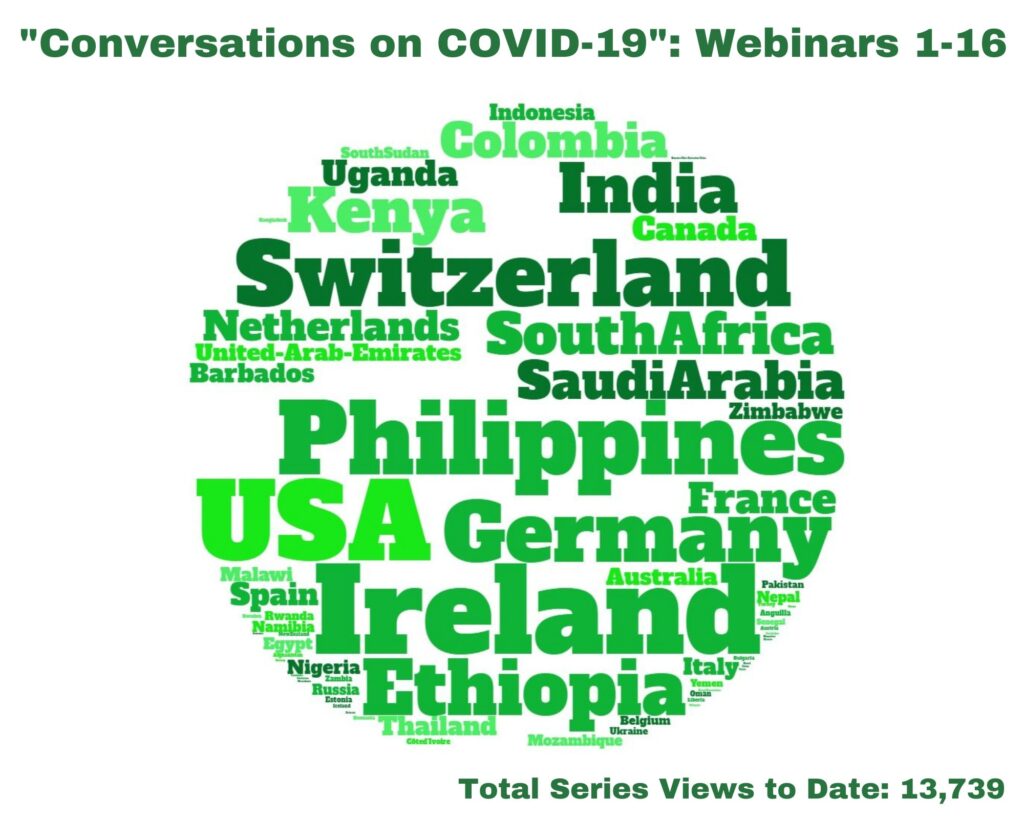 Subscribe to Newsletter
Sign up to become a member and receive our weekly updates