WEBINAR SERIES – Irish Global Health Network and ESTHER Alliance for Global Health Partnerships
March 18, 2020
Webinar 20: Conversations on COVID-19 – Vaccines: the end of the Covid-19 Pandemic?
Date: November 27th, 2020
Time: Friday at 1pm GMT
As health officials become increasingly optimistic about the effectiveness of new Covid 19 vaccines, high income countries are purchasing sufficient numbers of vaccines to cover their entire population whist lower and middle income countries are unable to access or pay for vaccines for their most vulnerable.
In this webinar, we examine how decisions regarding allocation of vaccines to various countries are made and what can be done to ensure that such decisions are made on the basis of health need rather than wealth.
Our speakers will be invited to address the following key questions:
Topics for Discussion:
Lessons from the past

Likely distribution of vaccine globally

Reasons for unequal distribution

Solutions to ensure adequate and fair access globally
SPEAKERS CONFIRMED
Dr Ellen F. M. 't Hoen LLM PhD is the director of Medicines Law & Policy, a group of legal and policy experts offering advice to international organizations and governments. She is the founder and former executive director of the Medicines Patent Pool. She is a fellow at the law faculty of the University of Groningen. She has a Masters degree in law from the University of Amsterdam and a PhD from the University of Groningen. She has published widely and is the author of several books. In 2017 she received the Prix Prescrire for her latest book "Private Patents and Public Health: Changing intellectual property rules for public health." In 2020, she was appointed Officer of the Order of Oranje-Nassau, a royal award given in recognition of her work on access to medicines.
Achal Prabhala is a fellow of the Shuttleworth Foundation and the coordinator of the AccessIBSA project, which campaigns for access to medicines in India, Brazil and South Africa.
Dr Aisling McMahon is an Assistant Professor of Law at Maynooth University where she specialises in medical and intellectual property law. Her work is particularly interested in the role of patents within the health context, including the impacts patents can have on access to, and delivery of healthcare. Aisling has published widely within the leading international peer reviewed medical and intellectual property journals, including in the: Journal of Medical Ethics, Medical Law Review, Cambridge Quarterly of Healthcare Ethics, and the Intellectual Property Quarterly. She is a member of Access to Medicines Ireland.
Isabel Simpson, Executive Director – Médecins Sans Frontières/Doctors Without Borders (MSF) first worked with MSF as medical coordinator in Bosnia in 1996 and since then has held many senior positions including Head of Mission in Sri Lanka, Zimbabwe, Pakistan, Somaliland and Iraq and as a Project Coordinator in North East India. Isabel has also worked as Executive Director of Programmes with MSF Australia. Isabel has also worked as an independent humanitarian consultant, specialising in exploratory and start-up missions for other international emergency and development organisations working in places such as the Occupied Palestinian Territories, Chechnya, Iraq, Myanmar and Bangladesh.
Moderators:
Dr Kieran Harkin, General Practitioner and Co-Founder of Access to Medicines Ireland
Dr Kieran Harkin in a Family Doctor who works predominantly with the Homeless Community in Dublin. He is one of the founding members of Access to Medicines Ireland (AMI) which is a membership group of Comhlamh- an organisation for volunteers interested in development. AMI campaigns for equitable access to medicines globally primarily by raising public awareness of the issues and welcomes all with an interest in this issue.
Hala Ali, Co-coordinator for ESTHER Alliance for Global Health Partnerships
VIEW PREVIOUS WEBINARS and DOWNLOAD SLIDES RESOURCES FOR LMICs
ABOUT THE WEBINAR SERIES
This series of webinars focuses on healthcare professionals and overseas staff working in Global Health in the era of COVID-19. The webinars are held live each Friday hosting experts to discuss several COVID-19 topics relevant to health professionals working in global health.
COMPLETE WEBINAR EVALUATION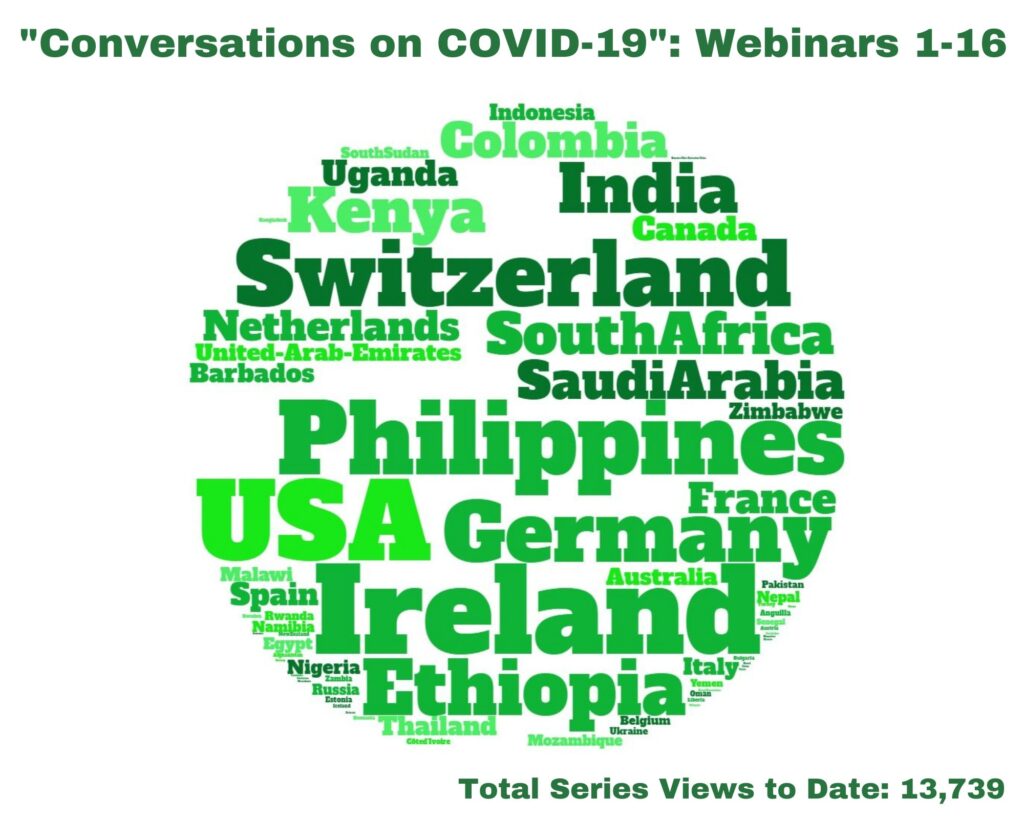 Subscribe to Newsletter
Sign up to become a member and receive our weekly updates