WEEKLY WEBINAR SERIES – Irish Global Health Network and ESTHER Alliance for Global Health Partnerships
March 18, 2020
Webinar 17: Men and COVID-19 – How are men affected by COVID-19 and how can the response better include them?
Date: July 17th
Time: Fridays at 1pm Irish/UK Time (12pm GMT)
Gender Equality is a central component of any humanitarian to development response. In the context of COVID-19 this is also the case. Women and Men, Boys and Girls are all affected by COVID-19. Much of the commentary so far indicates that women are more affected by COVID-19 in terms of high numbers of cases and serious secondary consequences around domestic violence for example. However, men seem more prone to severe episodes of the disease (perhaps related to diet and smoking) and more likely to die than women. Men also work in sectors of the economy, transport and construction for example, that might put them at a high risk.
This discussion will put a specific focus on men, the impact of Covid 19 on them directly and indirectly. It will also explore how well the response is addressing the particular needs of men.
JOIN THIS WEEK'S WEBINAR SIGN UP TO OUR NEWSLETTER
Our speakers will be invited to address the following key questions:
What disaggregated data exists on COVID-19 with respect to men?
How is COVID-19 impacting on men and how are they coping?
What should the response be doing more of to better meet the needs of men, women, boys and girls?
THIS WEEK'S SPEAKERS
Webinar Anchor: Ruairi Brugha, Professor Emeritus, Former Head of the Department of Public Health & Epidemiology at the Royal College of Surgeons in Ireland
Moderators:
Nadine Ferris France, Executive Director, IGHN

Hala Ali, Co-coordinator for ESTHER Alliance for Global Health Partnerships
VIEW PREVIOUS WEBINARS and DOWNLOAD SLIDES RESOURCES FOR LMICs
UPCOMING WEBINAR
14th August – Global Inequality & Poverty

28th

August –

Health Partnerships during the pandemic: Contributions & lessons

11th

September –

Health workforce implications of the pandemic
ABOUT THE WEBINAR SERIES
This series of webinars focuses on healthcare professionals and overseas staff working in Global Health in the era of COVID-19. The webinars are held live each Friday hosting experts to discuss several COVID-19 topics relevant to health professionals working in global health.
COMPLETE WEBINAR EVALUATION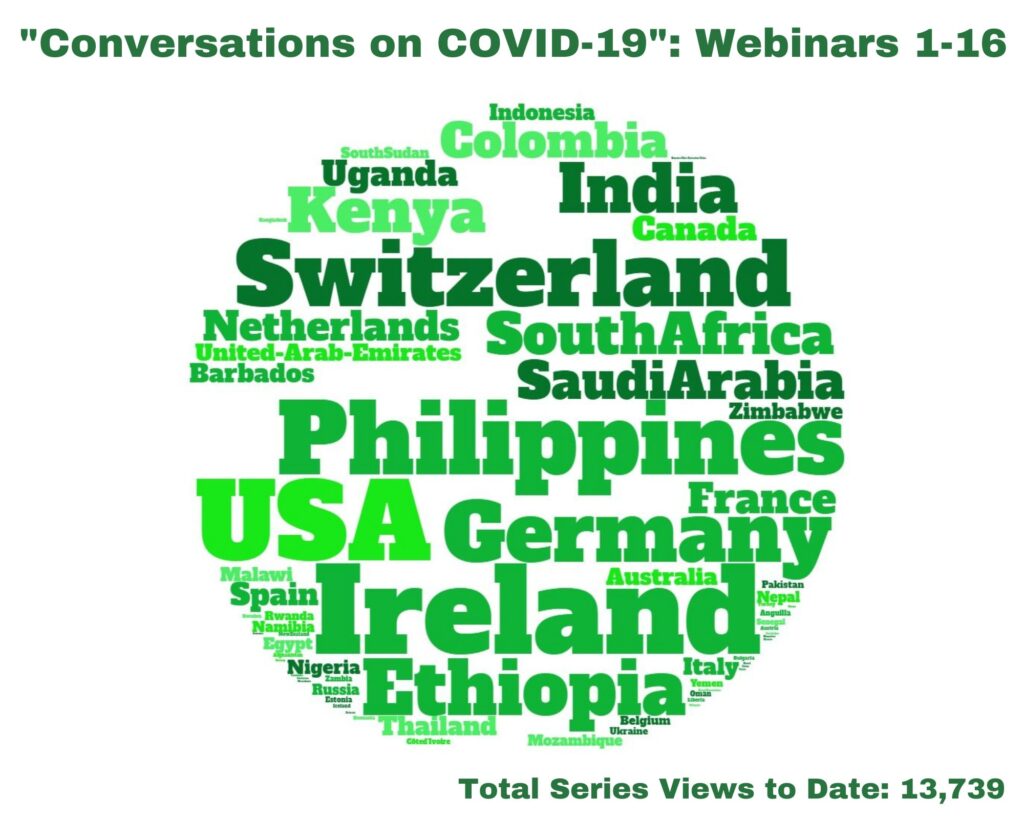 Subscribe to Newsletter
Sign up to become a member and receive our weekly updates