IGHNx: Humanity and Health
April 24, 2023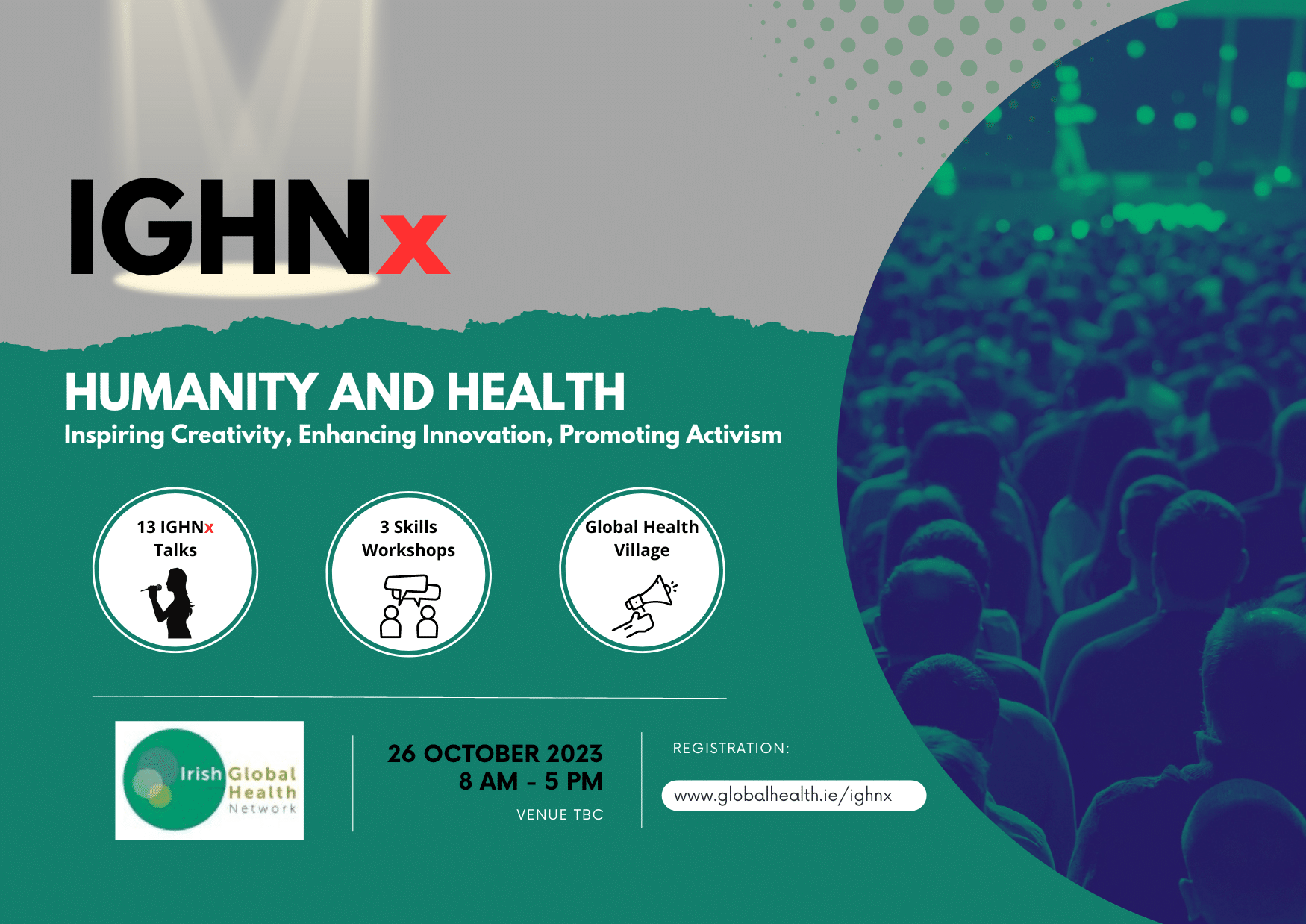 IGHN

x

: Humanity and Health
Inspiring Creativity, Enhancing Innovation, Promoting Activism
Save the Date: Thursday 26th October, 08:00 – 17:00 Irish Time
Location: TBC
Background
As an Irish community committed and passionate about equity, humanity, and inclusivity, we bring to you our very own version of a TEDx event; IGHNx. A break from our usual style of conference, this event will step away from the mainstream and delve into a world of diverse thinking, passion, and creativity. We want to flip the narrative and illuminate the much-discussed topics of global health in a whole new light. This event gives us an opportunity to come together as a community and discuss these topics to broaden our knowledge and understanding of them, and most importantly, to ensure that the communities we are fighting for, the farthest left behind, are brought to the forefront of these talks.
The event will consist of a variety of short talks on a range of topics related to global health under the broad theme of Humanity and Health. As well as these talks, there will also be a number of skills sessions on different subjects such as storytelling, mindfulness, and more. Not forgetting our Global Health Village; set up like a village, with individual stalls representing NGO's, higher education institutions, and various other organisations, it is a vibrant place for knowledge sharing and exchange of ideas. It also provides wonderful opportunities for networking.
Don't miss out on the opportunity to broaden the way you think about global health!
The Talks
These talks will follow a TED talk format, where the topics discussed will challenge your thinking and deliver thought-provoking questions on topics surrounding the broad theme of Humanity and Health. Fundamental to each of these talks will be their ability to inspire creativity, enhance innovation, and promote activism on each of the topic areas. Although these talks are short, at just 15 minutes long, the knowledge possessed by the speakers on their topics and the passion they have for them will leave you with a whole new way of thinking about and approaching these topics.
More details to be announced soon! Stay tuned!
Subscribe to Newsletter
Sign up to become a member and receive our weekly updates