Women at the Core of HIV Advocacy and Women's Rights
December 5, 2019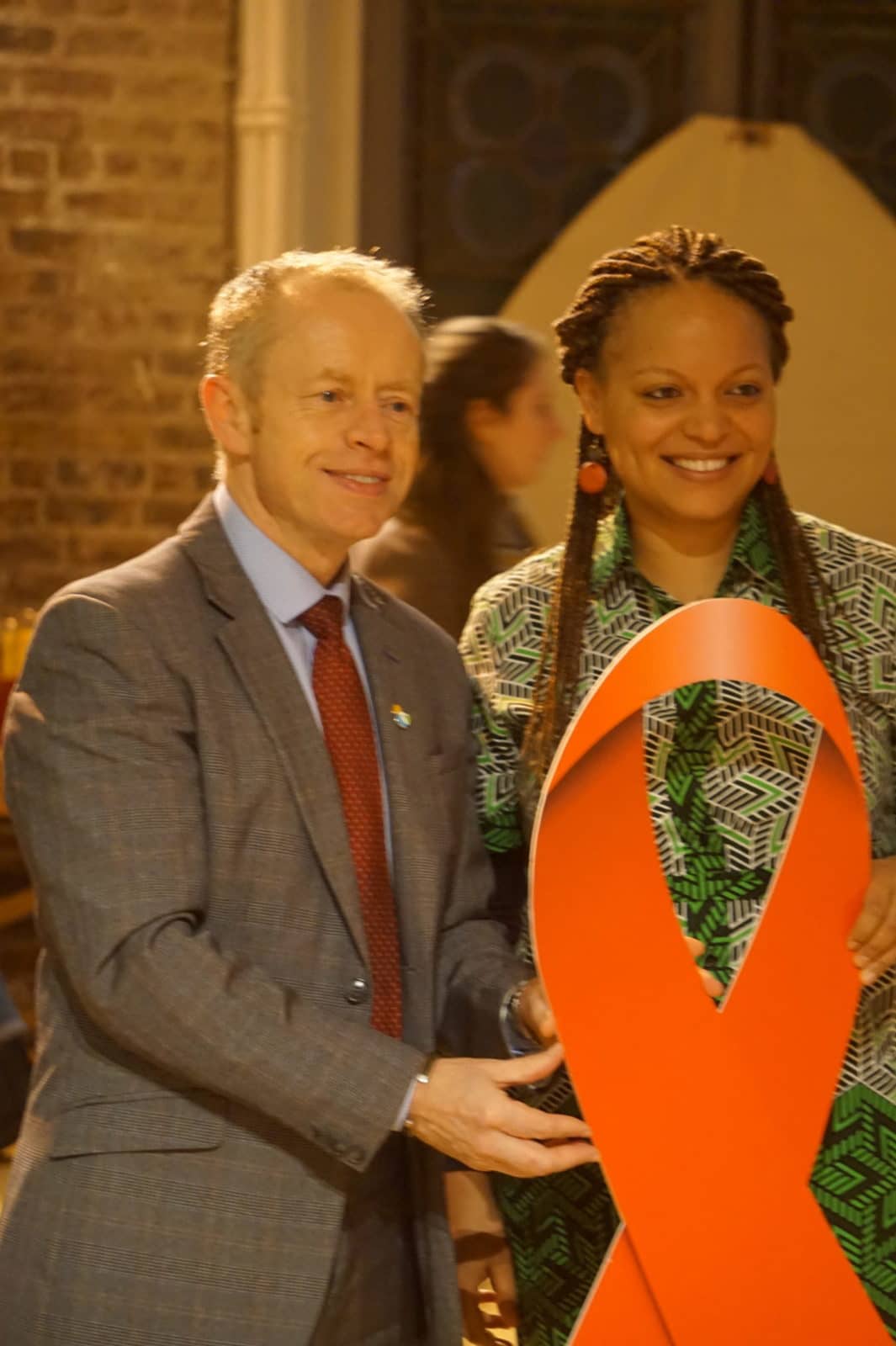 By Key Correspondent Ashley Scott, for the Irish Global Health Network
What a privilege it was to hear Georgina Caswell speak at the Prof. Father Michael Kelly Lecture on HIV & AIDS, organised by Irish Aid and supported by the Irish Global Health Network on the 28th of November 2019. Georgina is Head of Programmes at the Global Network of People Living with HIV (GNP+) in Cape Town, South Africa and brought a colourful narrative, and positive outlook for those living with HIV and AIDS. After introducing herself, she expressed her admiration of Prof. Father Michael Kelly and that she sees him as a legend and pioneer in HIV advocacy.
Georgina introduced us to the vision of GNP+, which is for all living with HIV to enjoy a good quality of life, including enjoying sexual and reproductive health and rights fully. She echoed prior speakers in emphasising that women are not yet at this point internationally.
Georgina described how 6,000 women and girls aged between 15 and 24 contract HIV every week, and that in Sub-Saharan Africa, four out of five new HIV infections among 10-19 year olds, are girls. She also stated that almost 50% of women between the ages of 15 and 49 in Sub-Saharan Africa have an unmet need for modern contraception. She reported that there are 7.7 million people living with HIV in South Africa- more than double the population of Ireland! These statistics came as a shock, as HIV is an illness you cannot see and is generally hidden due to shame and stigma, even here in Ireland. This is why "out of sight, out of mind" is a battle that HIV advocates need to fight every day, especially for those with HIV who feel the need to be out of sight.
Georgina then told us the stories of three women from South Africa, Burundi and Kenya who faced and overcame different challenges that they experienced with HIV. The audience was enthralled in the animated stories of these women who overcame stories of formal and informal prostitution, shame and disbelief at HIV testing, feeling cursed, receiving sub-standard treatment at healthcare providers, self-stigma and even attempted suicide.
What resonated with these stories is that nobody wants to talk about HIV. Georgina said that she was able to visit a school in Dublin and that one of the children said that they don't know much about HIV because they don't speak about sex or HIV. This led me to think that silence and shame around HIV seems to be more of a secondary symptom or illness to HIV, rather than mere emotion and inaction.
Georgina then discussed the impact of power between men and women and how different cultures have different power dynamics which are not easily changed. She brought this closer to home by describing the difference in power dynamics in her own family, illustrating the difference in gender roles when being home in South Africa, and when she is visiting her husband's family in Zambia.
She described that she understood that it was a delicate dynamic that would not be easily changed, but that a shift in thinking around power roles would help. She said, "Power dynamic is perpetuated by everyone around, not only men" and that we need to find a way to shift dynamics which put women in situations where they are powerless in obtaining contraception and in addressing gender-based violence.
After her lecture and during the panel discussion, Ailbhe Smyth (Academic, Feminist and Activist) agreed with Georgina saying, "In Ireland, we have a responsibility and obligation, that we cannot see the wreckage that HIV AIDS causes. In Ireland, we close our eyes to the reality of HIV". She added that she is immensely inspired by what she has heard. Ellie Marley (HIV Stigma and Shame Researcher) agreed with Georgina's views on shame saying that "Silence breeds shame" and that in Ireland, women want a safe space to share their stories.
Georgina was able to create a lively and cheerful atmosphere, engaging people in real narratives of living with HIV, making the topic accessible and optimistic, while still highlighting the importance of action around HIV and women's rights. She thanked the Irish people for fighting for women's rights and urged everyone in the audience to keep HIV on the international agenda.
Subscribe to Newsletter
Sign up to become a member and receive our weekly updates