SOT Pre-Conference Event: Access to Health Information & Resources
September 8, 2022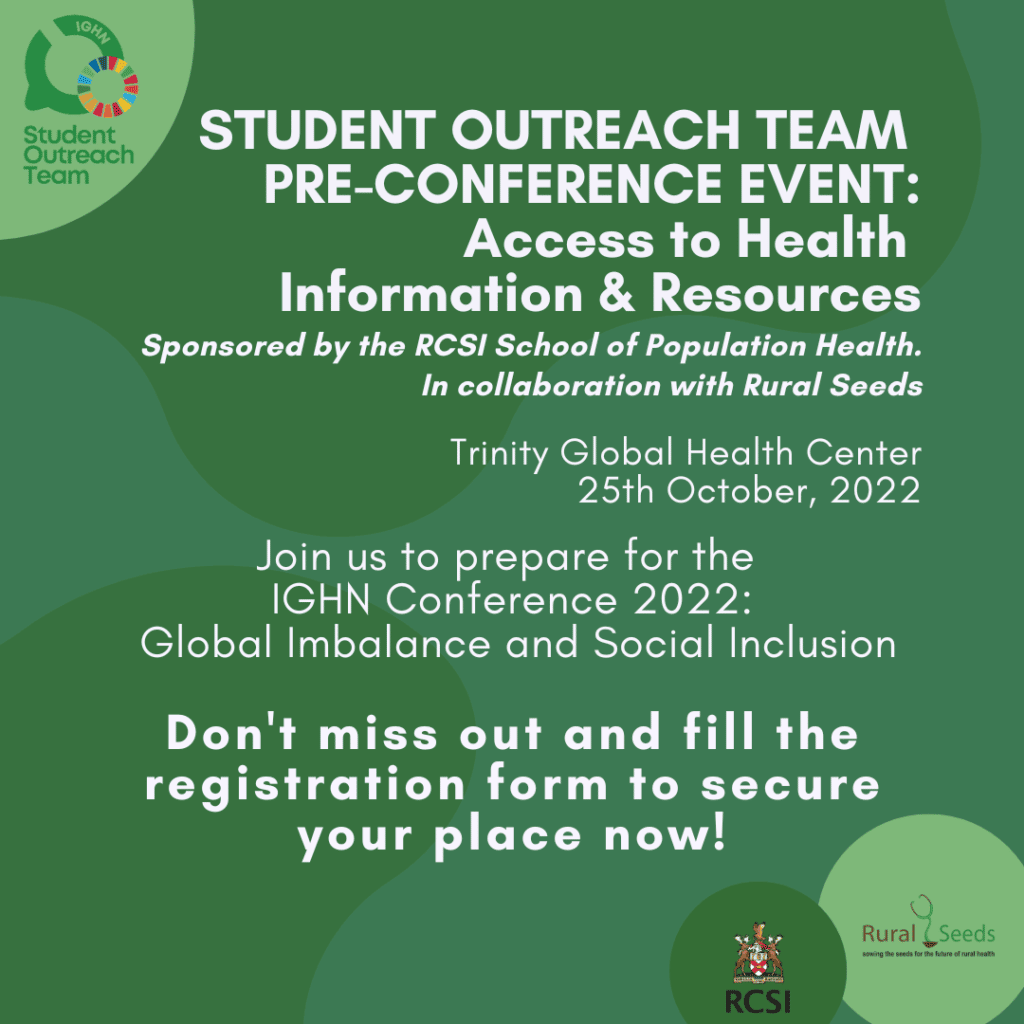 SOT Pre-Conference Event
In correlation with Irish Global Health Network's annual conference, the Student Outreach Team are pleased to announce their pre-conference event, which will take place on Tuesday 25 October beginning at 6pm in the Trinity Global Health Centre. The theme of the pre-conference event is 'Access to Health Information & Resources'. This event is proudly sponsored by RCSI School of Population Health.
The event is in collaboration with Rural Seeds, a global network of students and young doctors raising awareness for access to healthcare in rural areas. There will be an open panel discussion relating to health information access, women's and migrant health, through a non-formal, holistic approach; Every participant has the same power of voice during each discussion. This event will finish with a networking event will follow for all attendees in the Trinity Global Room.
Our student outreach team from eight universities across Ireland will also present findings from their paper; Vaccination & information during the Covid 19 pandemic; a comparison between the US, Ireland, and the UK.
To register to attend this event, go to the Registration form.
Registration Deadline: Thursday 20th October.
Key Correspondents Training
The IGHN Key Correspondents have been a valued source of information-rich content for the Network. Their contributions on topics relating to issues of global health and development have led to a diverse range of outputs, taking the form of written reports, event previews, op-ed, and other media such as photos, videos and podcasts. Key Correspondents aim to highlight a fresh local-global perspectives and diverse scope of experiences from people (namely the next generation of professionals) engaged and working in the field of health and development.
Key Correspondents Training will be provided from 4pm – 6pm on Tuesday 25th of October in the Centre for Global Health, Trinity College Dublin for those who wish to attend the Irish Global Health Network Conference and report on the various sessions they attend.
For more information on the Key Correspondents Training please click here.
Finger on the Pulse is the Irish Global Health Network's annual Key Correspondent publication, offering a panorama of the latest issues in the field of global health. What distinguishes this publication is the fact that it has been written by a team of citizen journalists, who have volunteered their expertise and viewpoints as fledgling health professionals to contribute to a project that is both diverse in opinion and in-depth in analysis. To read issues from previous years, please click here.
Volunteers
We are seeking volunteers to partake in this year's Irish Global Health Network Conference. This is an excellent opportunity for students and young professionals to get hands-on experience, meet inspiring people in the field of global health and to attend the conference free of charge. There are a wide range of roles available such as Communications, Photography/Videography, Ushers, Technical Support among many others. Whatever your professional/academic background, age, skills and abilities, we would love for you to contribute to this year's conference. For more information and to register, please email SOTCoordinator@globalhealth.ie.
Subscribe to Newsletter
Sign up to become a member and receive our weekly updates