Webinar – Addressing Global Mental Health Priorities
September 26, 2023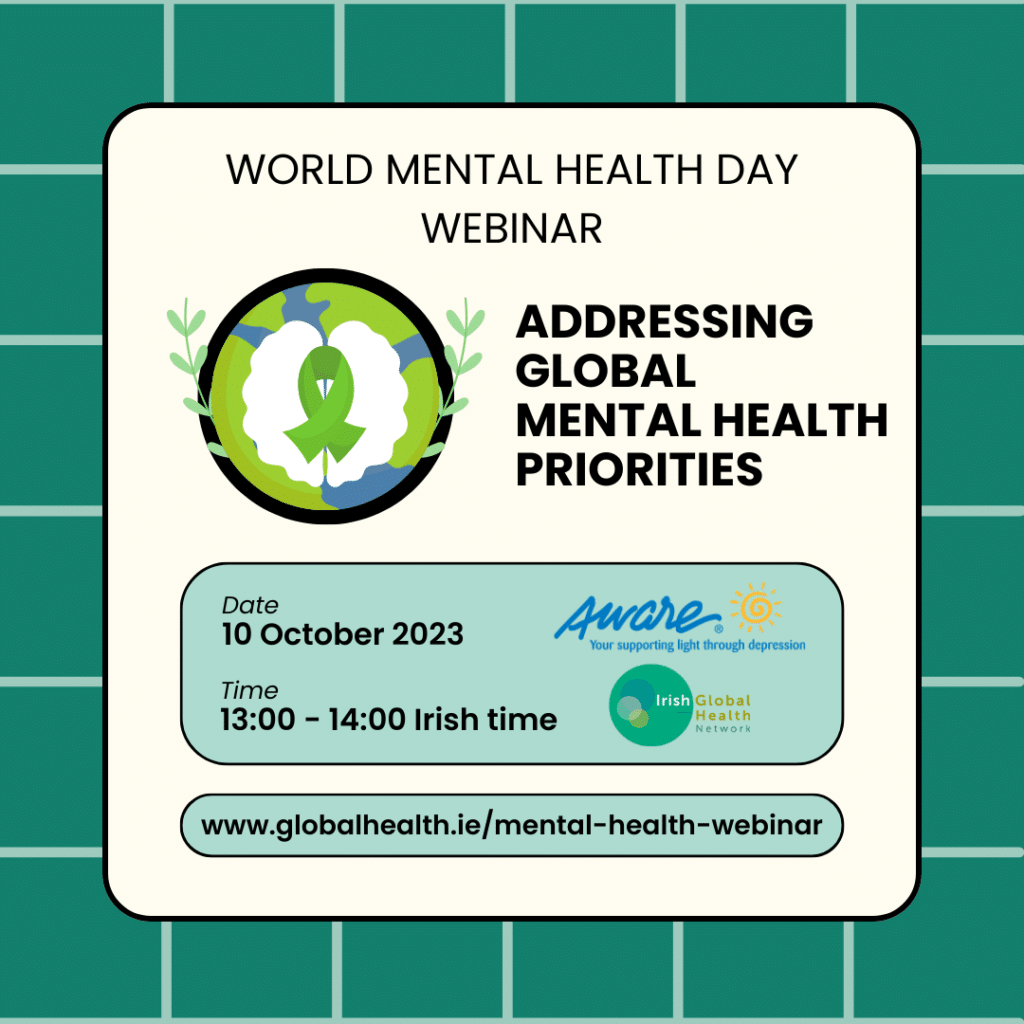 WATCH THE RECORDING EVALUATION FORM
Background
World Mental Health Day is marked every year on 10th October and is an international day for global mental health education, awareness, and advocacy against social stigma. Mental health includes our emotional, psychological, and social well-being. Mental health is health.
Thank you to everyone who joined us for this webinar to mark World Mental Health Day in which we addressed global mental health priorities including increasing access, promotion and prevention, stigma, and more.
In partnership with Aware.
Moderator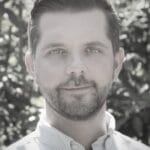 Ben Adams, WHO Mental Health and Substance Use Department
Ben Adams currently works for the World Health Organisations Mental Health and Substance Use Department specifically supporting their Special Initiative for Mental Health. Prior to this he worked as the Senior Mental Advisor for a global disability NGO for 7 years where he was the technical lead for mental health across Asia and Africa, and MHPSS in humanitarian settings globally.
Ben comes from a mental health nursing background. He has spent years living and working across Africa and Asia. Ben has worked in various roles as a clinician and as a mental health specialist globally. He has supported the development and implementation of mental health programmes, mental health law, policy and system reform, and mental health research (TCD/LSHTM) across Asia, Africa and Latin America. Ben is passionate about mental health, human rights and inclusion.
Speakers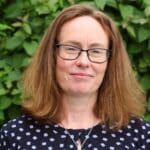 Dr Susan Brannick, Clinical Director at Aware
Susan is a Clinical Psychologist with several years' experience of service development and innovation as well as offering psychological consultation and training to health and community organisations. She is passionate about tackling stigma in mental health and understanding how the socio-political context that people live within may impact on psychological difficulties including depression and bipolar disorder. She is dedicated to the provision of effective, equitable and accessible services to people living with mental health difficulties. Susan holds a Doctorate in Clinical Psychology from the University of Surrey and a MSc in Neuroscience from Kings College London.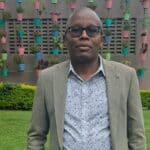 Michael Njenga, Regional Mental Health Advisor for Africa, CBM Global Disability Inclusion
Michael Njenga works as the Regional Mental Health Advisor for Africa for CBM Global Disability Inclusion. He is also a Board member at the Disability Rights Fund. Mr. Njenga has successfully completed a fellowship with the International Disability Alliance (IDA). As a person with a psychosocial disability, he is passionate in advocating for the right to legal capacity and an inclusive society where all persons with disabilities enjoy all their human rights. Michael has extensive knowledge in inclusive development, mental health, legal harmonization, advocacy and monitoring the implementation of the CRPD. Mr Njenga is also a lead trainer in the BRIDGE CRPD/SDG capacity building program. This is a capacity development initiative between the International Disability Alliance (IDA) and the International Disability and Development Consortium (IDDC).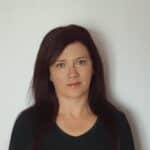 Julieann Cullen, Chairperson for EU Region, Global Mental Health Peer Network
Julieann is part of the country leadership committee for the Global Mental Health Peer Network. She has recently taken on an additional role as the acting chairperson for the European region for 2023. She is qualified as a mental health nurse and has many years' experience working in the area of youth mental health. She has lived experience of mental health both directly and through caring for family members. She is passionate mental health advocate and expert by experience.
WATCH THE RECORDING
Subscribe to Newsletter
Sign up to become a member and receive our weekly updates