Ireland's International Development Policy: Implications for Health – 14 January, 2020
October 14, 2019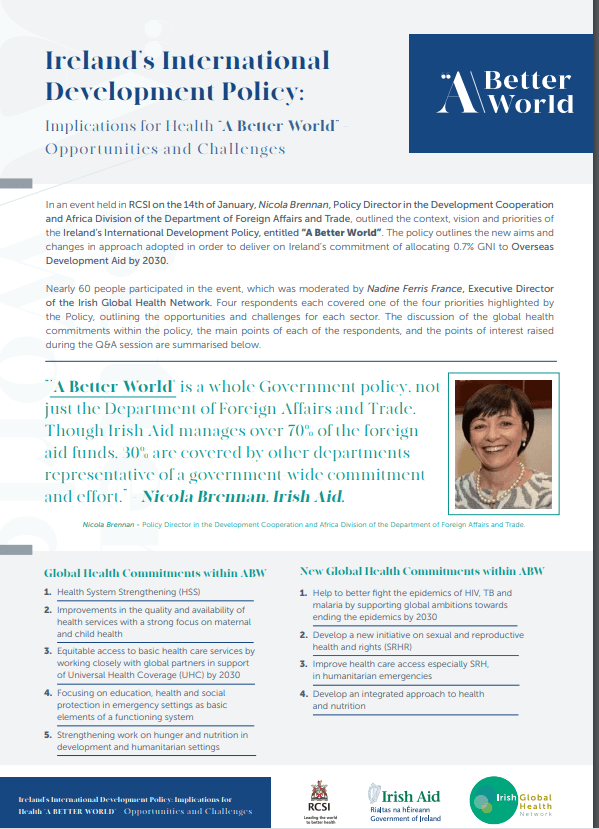 IGHN together with RCSI and the Department of Foreign Affairs and Trade hosted an event to present and discuss Ireland's new International Development policy: A Better World as it relates to the opportunities and challenges for health. This followed on from a consultation meeting and submission made by IGHN on health during the consultation process.
Launched in February of this year, by the Taoiseach, Tanaiste and Minister of State for International Development, the policy provides the framework for Ireland's expanding development cooperation programme, in line with the Government's commitment to reaching the UN target of allocating 0.7% of our GNI to official development assistance by 2030.
Nearly 60 people participated in the event, which was moderated by Nadine Ferris France, Executive Director of the Irish Global Health Network. Four respondents each covered one of the four priorities highlighted by
the policy, outlining the opportunities and challenges for each sector. The discussion of the global health commitments within the policy, the main points of each of the respondents, and the points of interest raised
during the Q&A session are summarised in the Brief above.
EVENT PROGRAMME
Welcome: Dr Debbi Stanistreet, Senior Lecturer and Interim Head of Department of Epidemiology and Public Health, RCSI
Speaker: Nicola Brennan, Director of Policy, Department of Foreign Affairs and Trade
Chaired by: Nadine Ferris-France, Executive Director, IGHN
Respondents:
Marie Hallissey, Global Health Advisor, GOAL
Niall Roche, WASH/ Environmental Health Consultant
Breda Gahan, Senior Health & HIV and AIDS Adviser, Concern Worldwide
David WeakLiam, Global Health Lead, HSE
Time: 16.30 – 18.00
The event was live streamed on Facebook at www.facebook.com/IrishGlobalHealthNetwork
Venue: Albert Lecture Theatre, 123 Stephen's Green, Dublin 2
Register here to be part of the discussion, and increase your understanding of what the new policy means for future implementation and research.
About the policy & health
The new policy focuses on four main areas:
– Improving gender inequality
– Reducing humanitarian need
– Climate action
– Strengthening governance
Within that, main intervention areas include: Protection, food and people (education, health and social protection).
We will strengthen our interventions in health, education and social protection to reach the furthest behind first. Aligning our work with SDGs 1 no poverty, SDG 3 good health and well-being, SDG 4 quality education and SDG 5 gender equality demonstrates continuity with Ireland's strong focus on poverty reduction, health and education, especially for women and girls. SDG 10 reduced inequalities is another focus.
We will build effective institutions for inclusive outcomes, towards universal access to health, education and social protection. We will be guided by the need to address the gaps in education, health and nutrition, and overcoming social exclusion and discrimination. We will focus on the delivery of social services to the most vulnerable, with particular focus on improved outcomes for women and girls, minorities and the inclusion of people living with disabilities.
Subscribe to Newsletter
Sign up to become a member and receive our weekly updates