The Global Fund – New Strategy Development – Open Consultation
September 21, 2020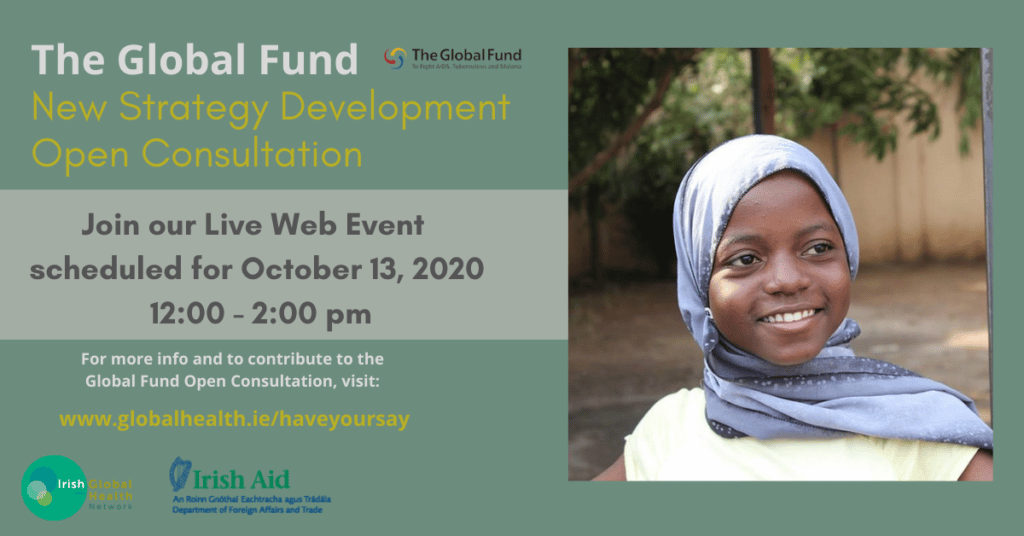 Irish Aid is part of the Point Seven Delegation that sits on the Board of the Global Fund. With support from the Irish Global Health Network, Irish Aid are soliciting feedback from the global health community in Ireland to contribute to the development of the Global Fund's new strategy.
DOWNLOAD IRELAND'S SUBMISSION TO THE GLOBAL FUND
Ireland has been a key supporter of the Global Fund since the beginning, contributing a total of €241.05 million to date. Ireland pledged €50 million for 2020-2022 – a 67% increase from its previous pledge and a firm sign of our commitment to alleviate the burden of the three diseases and build strong and resilient health systems. This represents the largest single investment for Ireland in global health and HIV.
The Global Fund have prepared a series of framing questions and are eager to hear from Civil Society Organisations on these or other topics.
There are two ways to contribute
to the new strategy:
---
1. Provide written feedback at the button below
---
2. Join an online meeting of all interested stakeholders: October 13, from 12 – 2pm.
---
LIVE WEB EVENT – October 13
Global Fund Event Speakers
Dianne Stewart, Head of the Global Fund's Donor Relations Department will speak about the global landscape of the three diseases and set the overall scene
Jessica Kraus, Global Fund Strategy, Impact, and Investment Division will then speak about the strategy development process
Irish Aid Event Speakers
Emma Warwick, Development Specialist, Irish Aid, Department of Foreign Affairs and Trade, Ireland
Fergal Horgan, Global Health and Nutrition Advisor – Permanent Mission of Ireland to the United Nations, Geneva
About the Consultation
The Global Fund has made the call to strongly encourage all stakeholders to contribute to this open consultation by identifying the most pressing challenges and opportunities in the fight against the three diseases; building resilient and sustainable systems for health; promoting and protecting human rights and gender equality; and mobilizing resources.
The Fund is seeking your views as to how these priorities are affected by the COVID-19 pandemic and broader changes in the health and development landscape.
The Global Fund Strategy
The Global Fund Strategy is a multiyear road map for the future, setting out priorities on how we can accelerate progress globally against HIV, tuberculosis and malaria and overall improve global health. Now over halfway through the Strategy 2017-2022, the process to develop the next strategy has commenced, which will begin in 2023.
The COVID-19 pandemic could derail 20 years of progress against HIV, TB and malaria. At the same time, it has galvanized public awareness on global health security in a way that builds enormous public support for investing in health. This makes it critically important to develop the next Global Fund Strategy to be highly effective, agile and collaborative. We must unite to fight. To succeed, the next strategy needs the best possible input from across the Global Fund partnership.
Subscribe to Newsletter
Sign up to become a member and receive our weekly updates