Father Michael Kelly Features on Irish Stamp
February 24, 2020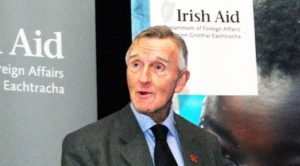 Father Michael J. Kelly Humanitarian and life-long AIDS Activist recently honoured with the Order of Distinguished Service Award from President Lungu of Zambia is to feature on a new Irish stamp being launched by An Post ahead of St Patrick's Day.
Two stamps featuring a gallery of Irish emigres who have made an impact on the world from the 1800's right up to the present will be officially launched on February 27.
In a separate instance this week, he was also interviewed for the Leap of Faith programme on Irish Radio. Listen to the clip here: Father Michael Kelly on Radio One
Working in very different jobs and all over the globe, Father Michael Kelly will be featured alongside Edna O'Brien (Author), and Mary Elmes (Humanitarian). The second stamp in the series features: Dame Kathleen Lonsdale (Scientist), Richard Harris (Actor) and Patrick Sarsfield Gilmore (Musician).
Reacting to the news, Father Michael Kelly commented: "I am both completely bowled over and absolutely delighted … When I was much younger I was a very keen stamp collector, but through all those years it never once crossed my mind that one day I would feature (in excellent company) on an Irish postage stamp. I am most grateful for this magnificent and totally unexpected honour and at the same time feel greatly humbled that I should have been signaled out for recognition in this way."
Fr. Michael Kelly was born in County Offaly in 1929. He is an advocate and activist for HIV/AIDS prevention and human rights in Sub Saharan Africa and worldwide. Each year, the Annual Professor Father Michael Kelly Lecture on HIV/AIDS is held in Dublin in his honour and as a tribute to his ongoing work.
Father Michael Kelly is a citizen of Zambia, living and working as an educator there for over 50 years. He is a recipient of 'The Irish Abroad' award from Department of Foreign Affairs and has been the recipient of several accolades for his tireless work.
Other important figures among the Irish diaspora to be honoured include:
Mary Elmes – Born in Cork in 1908. A graduate of the London School of Economics who travelled to war torn Europe, working as a humanitarian with the Quakers. Mary is known for her leadership in saving children in danger during both the Spanish Civil War and World War II. Imprisoned by the Gestapo during WW2, Mary Elmes was later awarded 'First Among The Nations'.
Patrick Sarsfield Gilmore – Born in Dublin in 1829, raised in Galway. Served as a stretcher bearer and musician in the American Civil War and became bandleader, composer and showman who played to millions across America during a forty-year career in the second half of the nineteenth century.
Richard Harris – born in Limerick in 1930. Studied at the London Academy of Music and Dramatic Art and made his stage debut in 1956. His acting career spans four decades and he received the 1990 Evening Standard Theatre Award for playing Pirandello's Henry IV.
Dame Kathleen Lonsdale – Born in County Kildare in 1903. One of the first two women to be admitted as fellows to the Royal Society and became a Dame of the British Empire. In her scientific career Kathleen Lonsdale developed several X-ray techniques for the study of crystal structure and the first female Professor of Chemistry and Crystallography at University of London.
Edna O'Brien – born in County Clare in 1930. Living in London, she published her first book, The Country Girls, in 1960. The novel was the first part of a trilogy of novels. The story is often credited with breaking silence on sexual matters and social issues during a repressive period in Ireland, following WWII. Edna O'Brien received the Irish PEN Award in 2001 and the 2011 Frank O'Connor International Short Story Award. In 2015, she was bestowed Saoi by the Aosdána.

Subscribe to Newsletter
Sign up to become a member and receive our weekly updates