ESTHER Partnerships Forum 2020 – Live Web Event
November 9, 2020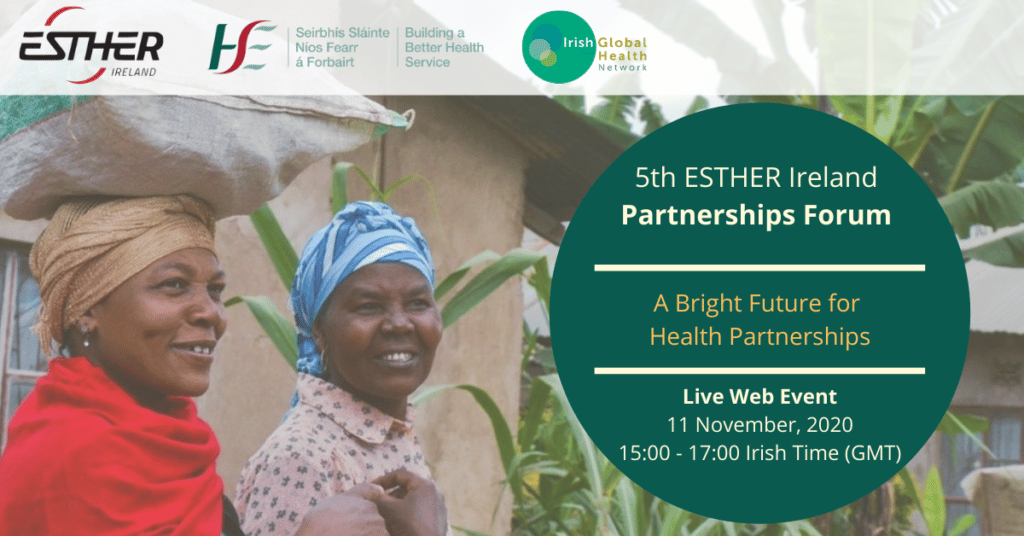 A Bright Future for Health Partnerships

VIEW EVENT ROUND-UP
Date of Forum: **November 11, 2020**
Time: 15:00 – 17:00 Irish Time (GMT)
The 5th ESTHER Ireland Partnerships Forum took place on November 11, 2020 as part of a live web event.
The previous six months were a time of great challenge, and also a time of great innovation, as health partnerships found unique and creative ways to continue their work in the midst of a pandemic.
This two-hour online event "A Bright Future for Health Partnerships" examined leading partnerships of the ESTHER programme, and some of the new links and approaches implemented in 2020.
The winners of the UNSUNG HEROES 2020 Award were announced at the event.
Welcome by Nadine Ferris-France, Executive Director of Irish Global Health Network
Introduction by David Weakliam, Global Health Programme Director, Health Service Executive
Keynote Speaker: Ben Simms, Chief Executive Officer, THET Partnerships for Global Health
Speakers: Omeima Salih, Ahfad University for Women, Sudan, Dörte Petit, Head of programme, ESTHER Switzerland
Featured Partnerships (MORE TBA):
1. APC Microbiome Institute/Sudan Partnership:
Irish and Sudanese Scientists have teamed up on an innovative approach to combating a slew of preventable diseases currently crippling Sudan's population through a strategic partnership centred on gut health. As part of an ESTHER Ireland grant partnership administered by the Irish Global Health Network and funded by the Health Service Executive, APC Microbiome Institute in University College Cork and Ribat University Khartoum Sudan are working to progress microbiome science in Sudan.
2. The Global Brain Health Institute/Bangladesh
The Global Brain Health Institute, made up of partners in Trinity College Dublin, the University of California, San Francisco (UCSF) and the The Neurology Academy in the UK have come together as part of an innovative collaboration on a project in Bangladesh to reduce the impact of dementia on the country's aging population. A network of mentors is being established to enhance learning and training programmes for Bangladeshi clinicians diagnosing and treating aging brain health.
3. Gorey-Malawi Health Partnership
The Gorey Malawi Partnership is working with Health Service Executive's Global Health programme, Irish College of General Practitioners and ESTHER Ireland to produce 14 accessible learning videos to help healthcare practitioners in lower income countries with their COVID-19 response. The videos have received an overwhelmingl response with more than two million views worldwide to date.
Subscribe to Newsletter
Sign up to become a member and receive our weekly updates