ENDING HIV – COMMUNITIES MAKE THE DIFFERENCE
January 3, 2020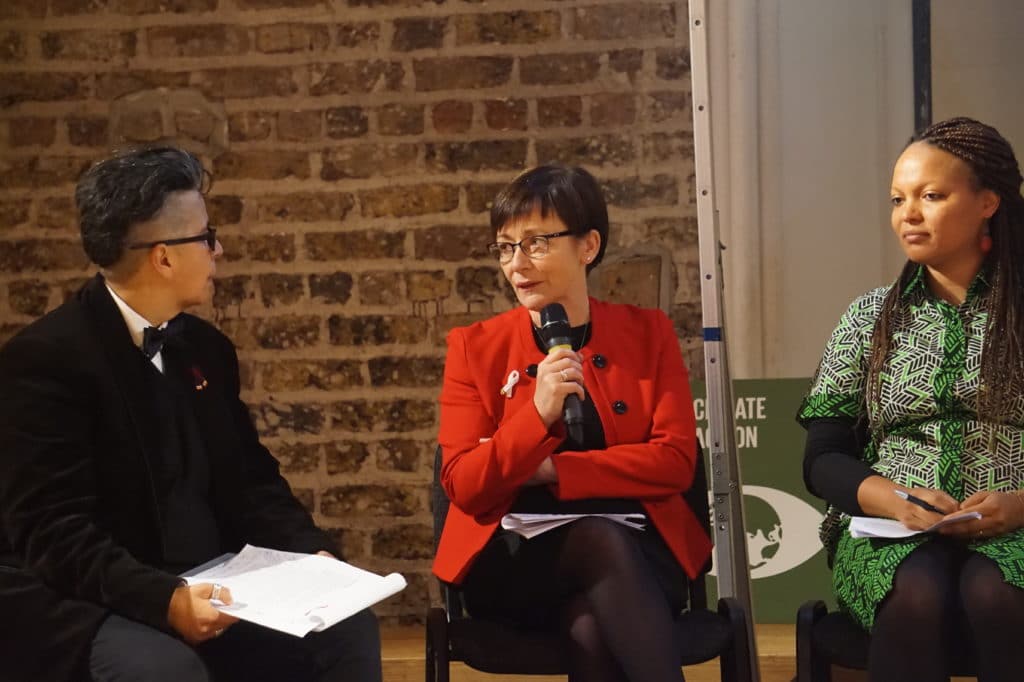 By Líbhan Collins, Key Correspondent for IGHN.
The annual Irish Aid Father Michael Kelly HIV/AIDS lecture was held in November 2019 in Dublin's Smock Alley Theatre. The event was opened and closed by the impressive SUSU Youth Choir, who brought a level of intimacy and even festivity to the crowd of 120 onlookers. This year's theme was HIV and Women: Sexual Reproductive Health and Rights. Through speakers and a panel discussion, this theme was unraveled and explored on societal and on more individual levels.
Ciarán Cannon TD offered his opening remarks; despite an 8% increase in HIV prevalence in Ireland in 2018, Ireland "remains committed to ending HIV." The new Irish policy for international development, A Better World, seeks to channel resources towards major public health issues with a focus on women and their ability to access services. The recent introduction of the PrEP programme is another step taken by the Irish government to decrease incidence; this antiretroviral prevention treatment is now available for those who are most at risk of contracting the infection. Cannon recognised the power of gender equality in achieving SDGs and international health improvements, emphasising Irish Aid's continuous increasing of funding towards the Global Fund.
With 5000 people globally newly infected with HIV every day, this is not a disease which is slowing down, despite progress in medical treatments. Largely, this is a burden carried by sub Saharan African countries. However, the stigma associated with the disease means that many in high income countries such as Ireland do not have enough education or awareness on the topic.
Fr. Michael Kelly joined the lecture via video from Zambia to inspire work in HIV. He urged us all to not let the efforts slow down. In Zambia AIDS is firmly a leading cause of death. A focus for Fr. Kelly is changing culture and outlooks for men and boys. Gender based discrimination is often a barrier to services, and knowledge and information are key to changing this. Fr. Kelly points out that being ignorant of one's status can increase the likelihood of infecting others.
The speakers of the evening were nothing short of hopeful and optimistic, asking their audience to not overlook progress made. Inequalities in society exacerbate the prevalence of HIV in minority groups, with 7-15% prevalence being in sexual minorities and sex workers. However, it is also common where it may be overlooked, due to stereotyping, in heterosexual men and women.
The first speaker Joannie Marlene Bewa spoke of her homeplace, Benin, a West African country that has one of the highest rates of HIV in relation to population size globally. Joannie sought to educate the youth. Cleverly, she looked to where the youth were in order to relate to them. Using soccer events, she brought young people together to discuss contraception and important prevention topics.
Another of her key focuses for her was keeping girls in school and looking for sustainability in funding. Integrated services can help young girls keep on top of their health and become more informed. For example, when a young girl attends a clinic to receive the HPV vaccine, it may also be wise to make use of this visit to screen her for HIV and offer some information on sexual health. Through these methods of creating awareness and prevention of infection spread, Bewa makes the distinction that communities do and must act as gatekeepers in the fight against HIV. Other events such as the 'Run Faster than HIV Tournament' offer a space for communities to come together and battle the seemingly stagnant stigma associated with HIV.
The next speaker, Georgina Caswell, works for GNP+ (Global Network of People Living with HIV). Their aim is to allow HIV+ people to enjoy a good quality of life, including sexual life and sexuality. Based in South Africa, where 7 million are HIV+, this work is invaluable. Stepping away from statistics and policies, Caswell brings the personal side of HIV to her speech, telling the deeply personal narrative of three young women, Lebo, Nadia and Daughtie, who struggled with being HIV+. For these women, a difficult part of their struggle was the stigma they faced from healthcare professionals and the experience of self-stigma. Before their diagnoses, these women had no information on HIV or on sexual and reproductive health. Now they speak out about prevention methods and help amplify the voices of those who are at risk of being left behind.
The Panel discussion teased out ideas and concepts that were mentioned by the speakers. Dil Wickremasinghe mediated Ailbhe Smyth, Ellie Marley and Nicola Brennan along with the previous speakers in this discussion. The panel agreed that as a wealthy nation Ireland has a responsibility to not stand by while HIV causes wreckage. Ireland has an unfaltering voice internationally when it comes to effectively acting as a donor and an advocate. Our own transformation in relation to women's rights, and our drive to help other nations transform alongside us is something of which to be proud. Yet as the speakers urged, there is no time for the slowing of this momentum. In Ireland, much of the HIV public health focus remains on gay men; women need more facilitation, and there is not yet a voice or a safe space for women with HIV in Ireland. As the panel spoke, the similarities in how stigma arises alongside this disease in different nations is evident.
The paramount importance of sexual health and reproductive education was highlighted by the panel, which each member concerned that this area needs much more attention. To fight stigma, the panel discussed creating spaces for people to come forward to check their status or to seek advice on living with HIV. With inadequate sex education in Ireland, adolescents who are sexually active still don't know about HIV. This needs to be improved for men and women both. Educating boys on women's health is of major importance – this takes the onus of women and girls and makes the responsibility shared.
In 2019, there are effective treatments and prevention methods that mean HIV is no longer a death sentence. Yet it still feels that way for many with the overwhelming stigma associated with it. This evenings lecture focused on the impact that this can have on women and girls. Shockingly HIV is the leading cause of death in women of reproductive age. What makes HIV especially dangerous is the social determinants that allow its spread; the power dynamic of women in culture and the overwhelming stigma that they often feel. In pushing for sexual and reproductive health education for all and the general education of girls, we can ensure that HIV doesn't get away with it – and that those most at risk are not left behind.
Subscribe to Newsletter
Sign up to become a member and receive our weekly updates