Decolonising Global Health: An Interactive Introduction
November 3, 2023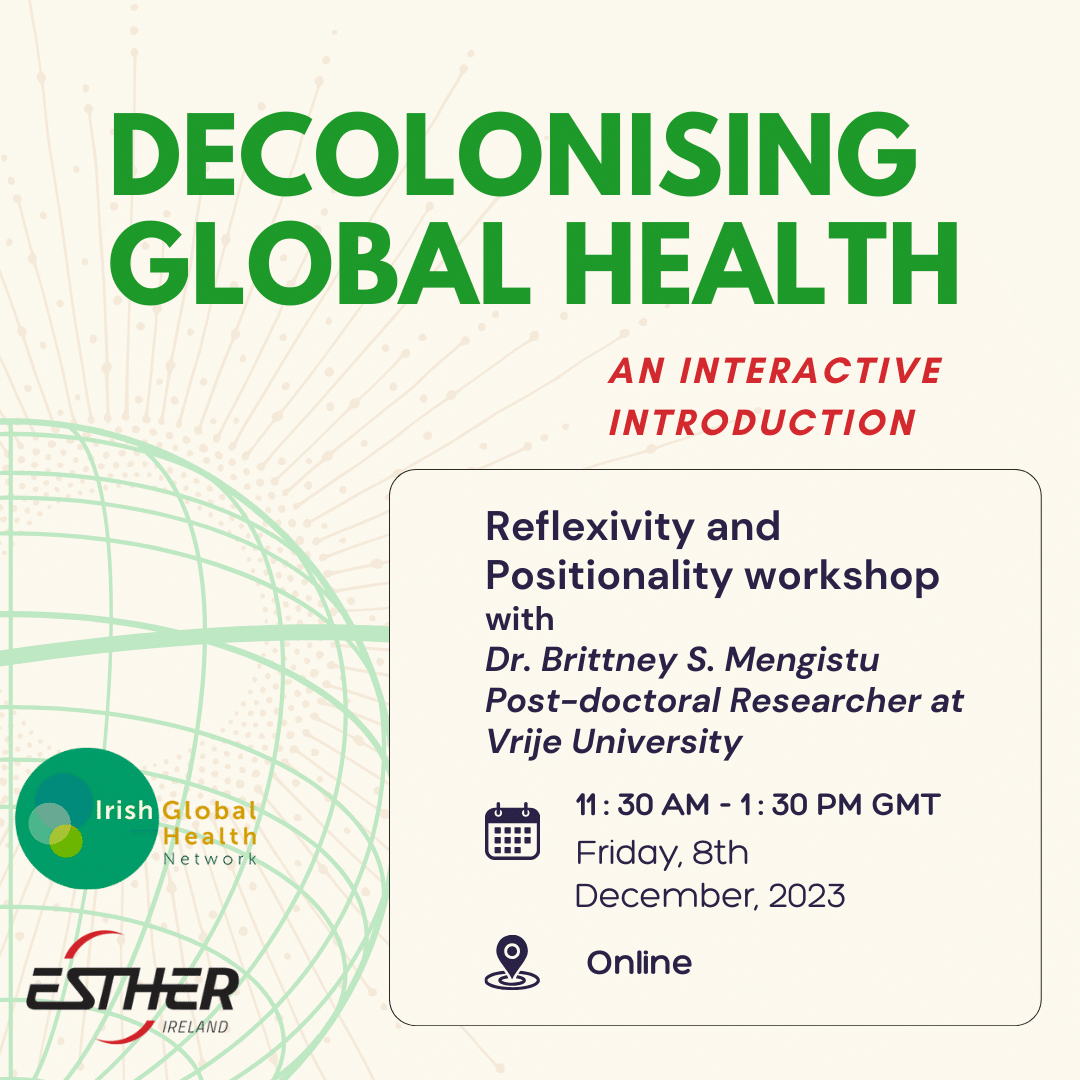 When: Friday 8th December, 11:30 AM – 1:30 PM Irish time
Where: Online via Zoom
REGISTER HERE
The Irish Global Health Network and ESTHER Ireland invite you to our upcoming online event 'Decolonising Global Health: An Interactive Introduction'.
'What is Decolonising Global Health? How do I begin reflecting on and engaging with the issue?'
If you have found yourself asking these questions, this event is for you!
Global health is at a crossroads, trying to reconcile its current aims to promote health equity and well-being for all, with its colonial origins and traits. As the Decolonising Global Health discussion and movement continue to build, it is important to become engaged, think critically, and reflect on our positions within Global Health. And it is never too late to start!
We are excited to welcome you to 'Decolonising Global Health: An Interactive Introduction'!
This 2-hour event will introduce the concept and issue of Decolonising Global Health, through a brief presentation, followed by an interactive workshop on Reflexivity and Positionality with Dr Brittney S Mengistu, post-doctoral researcher at Vrije University.
This event is open to any and all interested in understanding and engaging with the issue of Decolonising Global Health, including students, academics, and practitioners.
As an Irish global health community striving to promote equity, we find it important to encourage discussion on decolonisation. We hope this event will be an opportunity to look inward and interrogate our roles, and understandings of power and marginalisation within the realm of Global Health.
Join us in reflecting and engaging in Decolonising Global Health!
This event has an extremely limited number of places available! Please let us know if you have registered and can no longer attend the event, so someone from the waitlist can be allocated a spot.
REGISTER HERE
About the Workshop
The Reflexivity and Positionality workshop will provide an introduction to reflexive praxis in global health, including examining individual perspectives and experiences that position individuals in unique social categories. During the session, attendees will critically engage with their positionality in relation to global health research and practice. Attendees are encouraged to reflect on experiences of power and marginalization related to their various social categories, and the ethical boundaries and biases that open or foreclose opportunities for engagement with various marginalized communities.
The workshop entails didactic and interactive activities, where individuals are prompted to create a visual diagram of their positionality in relation to their current work in global health research or practice. In small groups, participants will be encouraged to reflect on their positionality and explore how it relates to their work. This workshop is ideal for academics, practitioners, policymakers, and anyone who is interested in reflexively engaging with their positionality and integrating reflexive praxis into their work. After this workshop, attendees will have the knowledge and skills to engage with reflexivity and positionality as integral components in global health.
About the Facilitator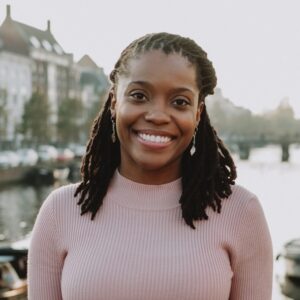 Brittney S. Mengistu is a postdoctoral researcher and lecturer in Global Health at Vrije Universiteit Amsterdam. Her research interests include participatory methodologies, humanitarian health, and the anthropology of mental health and migration. Brittney advocates reflexive and inclusive practice in global health by incorporating a decolonial feminist lens into her work. Brittney holds a PhD in Anthropology from King's College London and an MPH from Emory University.
REGISTER HERE
Subscribe to Newsletter
Sign up to become a member and receive our weekly updates