Conversations on COVID-19 15th Webinar: Malnutrition across the spectrum and the increased health risks during the COVID-19 pandemic
June 25, 2020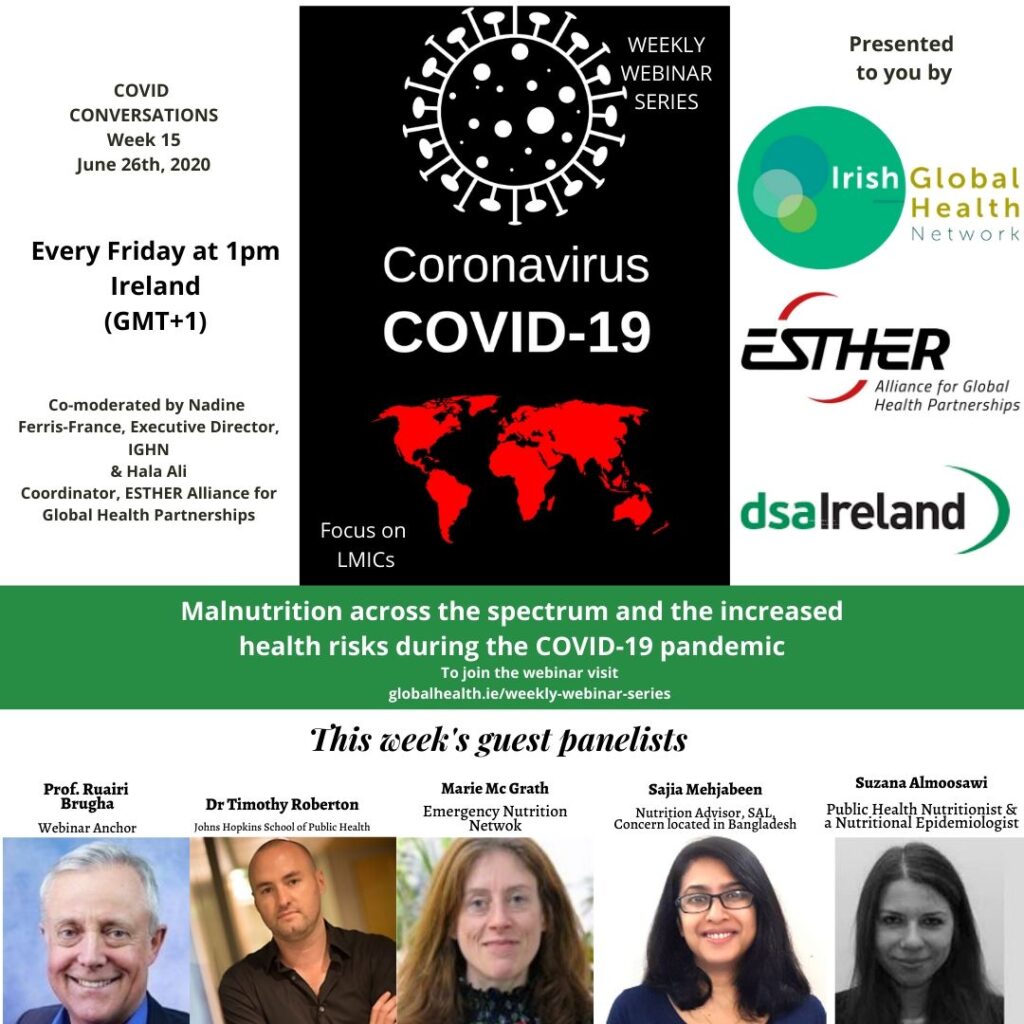 WEBINAR SERIES: WEEK FIFTEEN Malnutrition across the spectrum and the increased health risks during the COVID-19 pandemic
The fifteenth webinar was held on Friday 26/06/2020 at 12:00 pm GMT/1PM Irish Time.
This webinar is co-organized with the Development Studies Association of Ireland's Nutrition and Health Study Group. DSAI is a network and space for dialogue between development researchers, policy makers and practitioners.
For more information on DSAI Nutrition and Health Study Group, CLICK HERE
For more information on DSAI generally, CLICK HERE
The full suite of resources shared by speakers is available under each of their individual recordings, along with a summary of the points they made. A full list of additional resources shared by participants and hosts during the webinar can be found at the bottom of the page.
VIEW THE WEBINAR
---
Your feedback is important to us so that we can continue to share learnings, insights and practices relevant to those working in the LMIC community. Please take the time to complete our evaluation at the button below so that we can continue to improve the series.
COMPLETE WEBINAR EVALUATION
---
A SUMMARY OF POINTS MADE
Dr Timothy Roberton, Johns Hopkins School of Public Health
Across our three scenarios, the reduced coverage of four childbirth interventions (parenteral administration of uterotonics, antibiotics, and anticonvulsants, and clean birth environments) would account for approximately 60% of additional maternal deaths. The increase in wasting prevalence would account for 18–23% of additional child deaths and reduced coverage of antibiotics for pneumonia and neonatal sepsis and of oral rehydration solution for diarrhoea would together account for around 41% of additional child deaths.
Marie McGrath, Emergency Nutrition Network, (ENN)
To find out more about ENN, CLICK HERE
For more info on the ENN COVID-19 and nutrition programming, CLICK HERE
Marie's Resources:
Breastfeeding, MCH and COVID 19:
Sajia Mehjabeen, Nutrition Advisor, Concern Worldwide
To find out more about Concern, CLICK HERE
To know more about Concerns work on health and nutrition, CLICK HERE
Suzana Almoosawi, Public Health Nutritionist, Nutritional Epidemiologist
To find out more about NNEdPro Global Centre for Nutrition and Health, CLICK HERE
Webinar Anchor: Ruairi Brugha, Professor Emeritus
To view his contribution, click here
Download Ruairi's Presentation HERE
Ruairi's Resources
Further Resources:
FULL WEBINAR ARCHIVE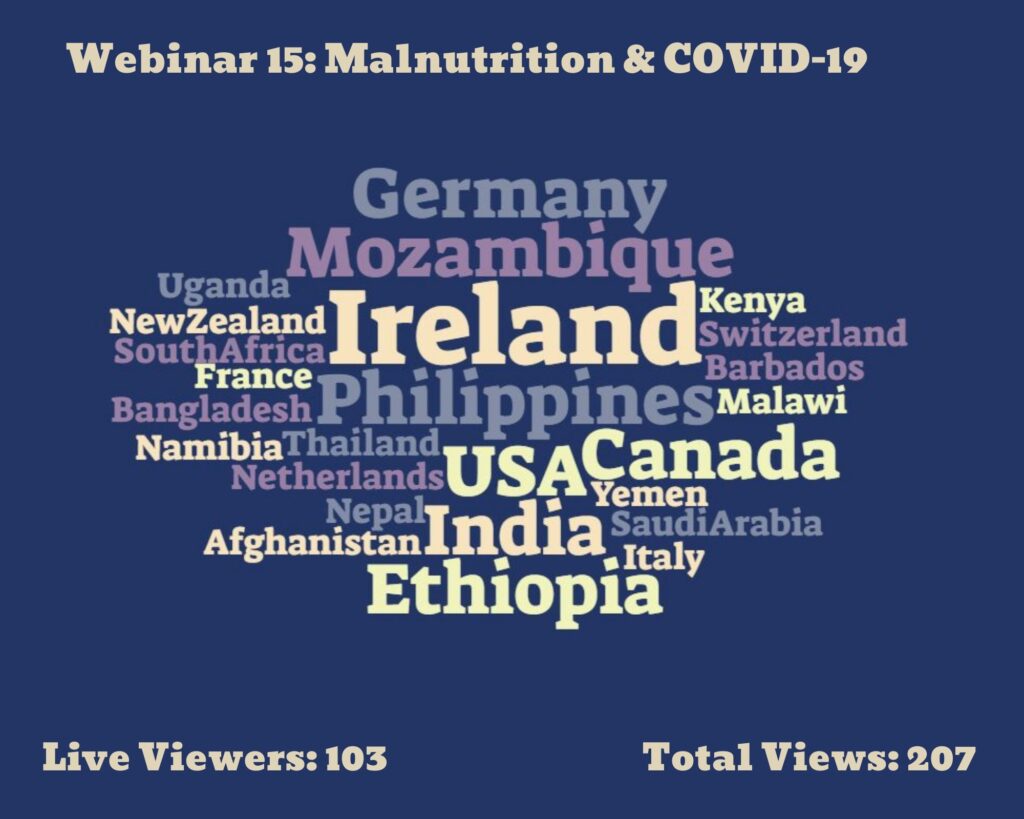 Subscribe to Newsletter
Sign up to become a member and receive our weekly updates