Conversations on COVID-19 8th Webinar: Leveraging research and evidence to support humanitarian response to COVID-19
May 8, 2020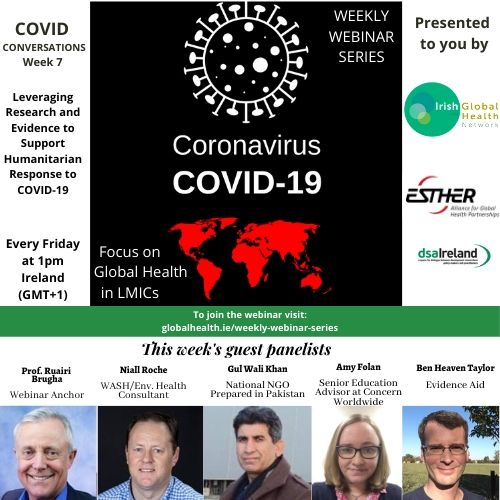 WEBINAR SERIES: WEEK EIGHT
Leveraging research and evidence to support humanitarian response to COVID-19

This webinar was co-organized with the Development Studies Association of Ireland's Humanitarian Action Study Group. DSAI is a network and space for dialogue between development researchers, policy makers and practitioners.
The eighth webinar was held on Friday 08/05/2020 at 12:00 pm GMT/1PM Irish Time.
VIEW THE WEBINARCOMPLETE WEBINAR EVALUATION
A SUMMARY OF POINTS MADE
Niall Roche, independent WaSH consultant, IGHN Board Member
Humanitarian engagement can be defined in many ways, so we must focus on not just the initial response, but long-term and surrounding issues.
Humanitarian Priorities – The 3 management related key public health priorities in terms of vulnerability:
– Assessment/ Context analysis: We are often failing to completely identify the risks and what are focuses should be.
– Human Resources and Training: Do we have the right staff to respond to this pandemic?
– Co-ordination: How well are different organisations/clusters communicating and working together
There are inherent biases wit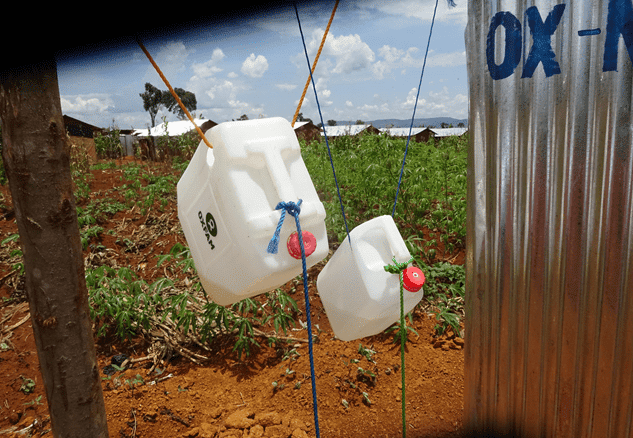 hin the Humanitarian sector:
– Biomedical bias: Often focus on vaccination rather than preventative WaSH techniques/behaviours
– Communicable Disease bias: NCD burn is just as worr
ying. Household air pollution for example creates huge disease vulnerability in LMICs – those with impaired lung function are more at risk to contract COVID-19
– Tobacco: This often creates vulnerability along gender lines
Gul Wali Khan from the national NGO Prepared in Pakistan
Progression of COVID-19 in Pakistan: Trade and travel restrictions, over 29, 000 cases, 29% of these already recovered, approx. 600 deaths (3-4%), Government is now expanding testing capacity. Approx. 75% of cases are male, 25% female. Concentrated in Urban areas, especially slums.
Humanitarian response in Pakistan:
Civil society organisations are collaborating with Government to provide food relief etc. Government has also initiated emergency cash programme.
Those who have lost jobs/have depleting assets eg. livestock due to the crisis are very vulnerable – malnutrition remains a huge concern.
Critical knowledge gaps identified:
– Knowledge of the time-frame of the pandemic; if end date is unknown, this creates anxiety and uncertainty
– Real time assessment by the government; UN seal is needed for assessments to be viewed as official
– The definition of vulnerability has changed – Stigma is also a huge issue
– Funding gaps;– NGOs are having to lay off staff also
For more information on the situation in Pakistan, CLICK HERE
Amy Folan, Senior Education Advisor at Concern Worldwide
Over 91.3% of school-going children worldwide are now not attending school; this is on top of millions of children internationally who do not attend school due to non-COVID related factors. This mean an exponential increase the need for humanitarian aid to provide distance-learning opportunity, particularly in areas of the world where there are already crises in education.
Education is an indicator for a variety of health outcomes – ripple effects of lack of school attendance.
Concern's response: access, quality of education/welfare of children; school is often a protective environment. Potential solutions: Remote/radio learning; community/parent engagement; integrating hygiene/Sexual & Reproductive H ealth/psycho-social messaging; looking to the future, planning for school re-opening.
Education in emergencies knowledge gaps:
– Limited evidence overall on what is effective
– Understanding of the contextual impact/long term effects
– It is important to understand how families' lives have been impacted and what are their priorities and needs
– Ebola lessons learned: Increased learning outcomes during school closures (effective alternate learning response), opposite happened in Liberia (less effective alternate education response)
For more information on Concern and their action on education please CLICK HERE
Ben Heaven Taylor, Chief Executive Officer, Evidence Aid
Evidence Aid: Aims to get high-quality research into use in emergency settings. During COVID-19, have been collating systematic reviews and publicizing as much as possible.
Important to understand what we already know: what is the existing evidence base, quality of evidence, and getting it put into practice effectively.
Knowledge gaps in COVID-19 research:
– Understanding of comorbidity, risk factors, particularly in low & middle-income countries
– Contextual analysis of local research and data available, especially on hygiene practices etc.; collaboration between medical science and social sciences
– Consideration on long-term impacts of COVID-19, esp. LMICs: health system, food security, etc.
– Understanding the value of Evidence: must be seen as part of national & international resilience; implement existing evidence base, preparedness
– Must be aware of the implicit bias in the Humanitarian sector
For more information on EvidenceAid, CLICK HERE
Ruairi Brugha, Professor Emeritus and Webinar Anchor, Resources:
Download Ruairi's Powerpoint Presentation
Thanks to Caitriona Dowd of DCU & DSAI Humanitarian Action Group for initiating this collaboration
FULL WEBINAR ARCHIVE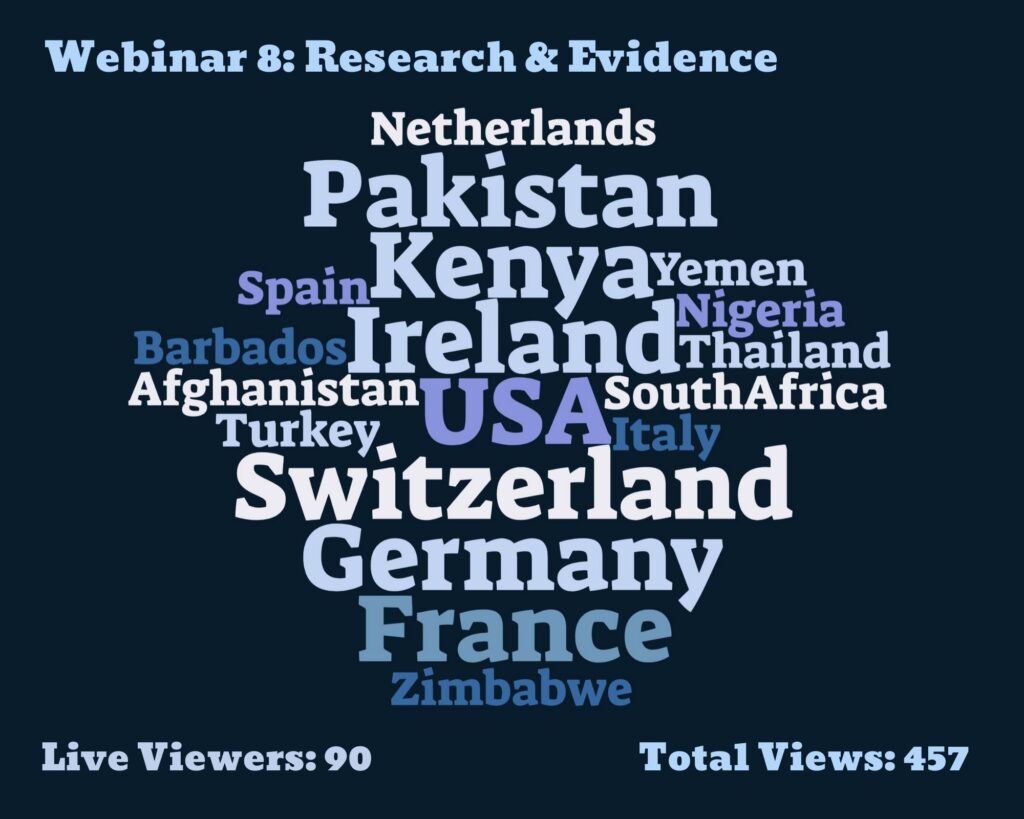 Subscribe to Newsletter
Sign up to become a member and receive our weekly updates