Conversations on COVID-19 13th Webinar: Exploring a Planetary Health Response to the Pandemic
June 11, 2020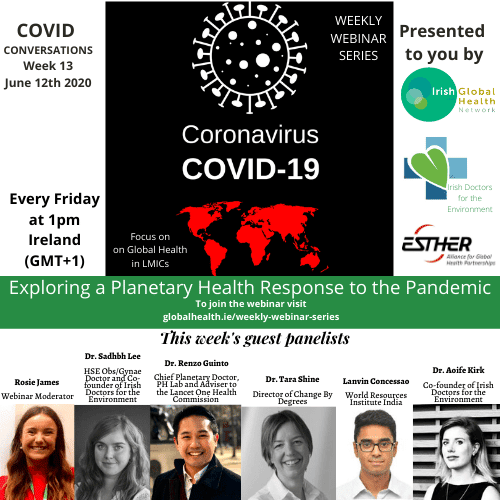 WEBINAR SERIES: WEEK THIRTEEN Exploring a Planetary Health Response to the Pandemic
The thirteenth webinar was held on Friday 12/06/2020 at 12:00 pm GMT/1PM Irish Time.
This webinar was co-hosted by Irish Doctors for the Environment.
To find out more about Irish Doctors for the Environment, CLICK HERE
An e-certificate is offered for all those who attended this event. Please email to request one at info@globalhealth.ie
The full suite of resources shared by speakers is available under each of their individual recordings, along with a summary of the points they made. A full list of additional resources shared by participants and hosts during the webinar can be found at the bottom of the page.
VIEW THE WEBINAR
---
Your feedback is important to us so that we can continue to share learnings, insights and practices relevant to those working in the LMIC community. Please take the time to complete our evaluation at the button below so that we can continue to improve the series.
COMPLETE WEBINAR EVALUATION
---
A SUMMARY OF POINTS MADE
Dr. Renzo Guinto, Chief Planetary Doctor, PH Lab; Youngest member of the Editorial Advisory Board of The Lancet Planetary Health
To view his contribution, click here
Dr. Renzo began by acknowledging those healthcare workers and members of the public globally who have already lost their lives to COVID-19. He says that humanities contribution to the decline of planetary health is like "a new form of colonialism", and COVID-19 could be just the beginning if we do not take climate change seriously.
Air quality has improved due to COVID-19 restrictions, and while these measures have allowed carbon emissions to return to 2010 levels, rather than romanticizing these temporary side-effects, we must strive to maintain and improve upon them. Decarbonatization that is intentional and planned is vital, taking into account all the side effects of such massive reforms while protecting human health.
The health sector has an opportunity to take the lead in climate action. There is enough knowledge about environmental changes and linkages to human health, and so waiting for more evidence is not practical. The Paris Climate Agreement required 21 climate negotiations, showing the concerning lack of global commitment for planetary health. The evidence is also clear that globally the consumption of red and processed meat must be reduced – it has been declared a carcinogen by WHO and known to contribute to antimicrobial resistance. The health sector must communicate with other sectors – to enable a health-in-all-policies approach.
Dr. Renzo's Dissertation Short Films
Tara Shine, Director, Change by Degrees; Environmental Scientist, Policy adviser
To view her contribution, click here
There have been both positive and negative effects of the pandemic on the environment. WHO estimates poor air quality kills around 8 million people per year between ambient air pollution and household air pollution. Travel bans during COVID-19 have improved air quality globally, however there has been massive healthcare sector waste and pollution eg. from disposable PPE. To achieve the goal of net zero carbon emissions by 2050, we need to change policies. Temporary measures are not enough, this pandemic response must be used as an opportunity for lasting change.
Areas of high air-pollution globally have also been many of the areas with the highest numbers of COVID-19 cases per capita. This exemplifies the fact that the shrinking space of the natural world is damaging to human health. Humans continually disturb ecosystems and therefore increase contact with wildlife, many of which are vectors for infectious disease.
Vulnerable populations are often most vulnerable to the effects of climate change, and so any response must consider these inequalities. Human rights-based approaches – the rights to food, water, livelihoods, shelter – provide structure within which to advocate for better planetary health. The SDGs are a fantastic framework to understand the way in which these aspects interlink. We cannot tackle climate change if we do not tackle inequality, and this also applies to health.
To find out more about Change by Degrees, CLICK HERE
Lanvin Concessao, Project Associate, Energy Program at the World Resources Institute (WRI) India
To view his contribution, click here
An increasing number of Indian households have access to electricity countrywide. Consistent electricity access is vital for healthcare delivery, however for many rural healthcare facilities this is not always accessible. COVID-19 has created even more of a strain on these facilities, and the Energy Programme at WRI is working to improve sustainable energy access to ensure access to health services are maintained during the pandemic, and to adapt to increasing climatic events and natural disasters.
Challenges to implementing solar energy around the country arise primarily from the lack of integration of four vital domains: Policy, Finance, Technology and Data. Interactive maps can help to visualize health and development indicators, including energy access. There is no one-size fits all approach to climate-change issues in different countries and context. A bottom-up approach that considers the local context is best. We need to understand the local challenges encountered on the ground surrounding the met, unmet and future demands of energy in the health sector. The pandemic has exposed poor healthcare infrastructure across the world. There is a huge need for larger, more sustainable energy systems.
Download Lanvin's Powerpoint Here
Dr Aoife Kirk, Senior Medical Officer during the COVID19 response, HSE Public Health team; Co-founder of Irish Doctors for the Environment, founded 2018
To view her contribution, click here
Climate change is one of the largest threats to global public health, and COVID-19 has proven how quickly policies can be put in place and adaptive measures implemented globally when urgency is felt. The planetary health framework provides an overall lens for tackling injustices from both bottom-up and top-down approaches.
We are living through a time of global reckoning for both the COVID-19 pandemic and the pandemic of racism and prejudice. To tackle systemic injustice, the world must emerge from these pandemics in a more equitable manner. Long term plans are vital; the creation of sustainable public health systems that will learn from COVID-19 responses and thereby manage the next global health shock more equitably and effectively. Each country must consider ways in which to emerge economically from COVID-19, and to plan for altered global priorities.
Healthcare providers can engage with the movement by acting locally; internally educate through discussion with colleages, patients, and the public. The importance of active transport, sourcing sustainable healthy food, and advocating for the inclusion of planetary health should be included as main parts of any medical curriculum. Physicians must educate themselves and become better patient advocates for these urgent public health issues.
Further Resources:
Resources suggested by Maca Hourihane:
FULL WEBINAR ARCHIVE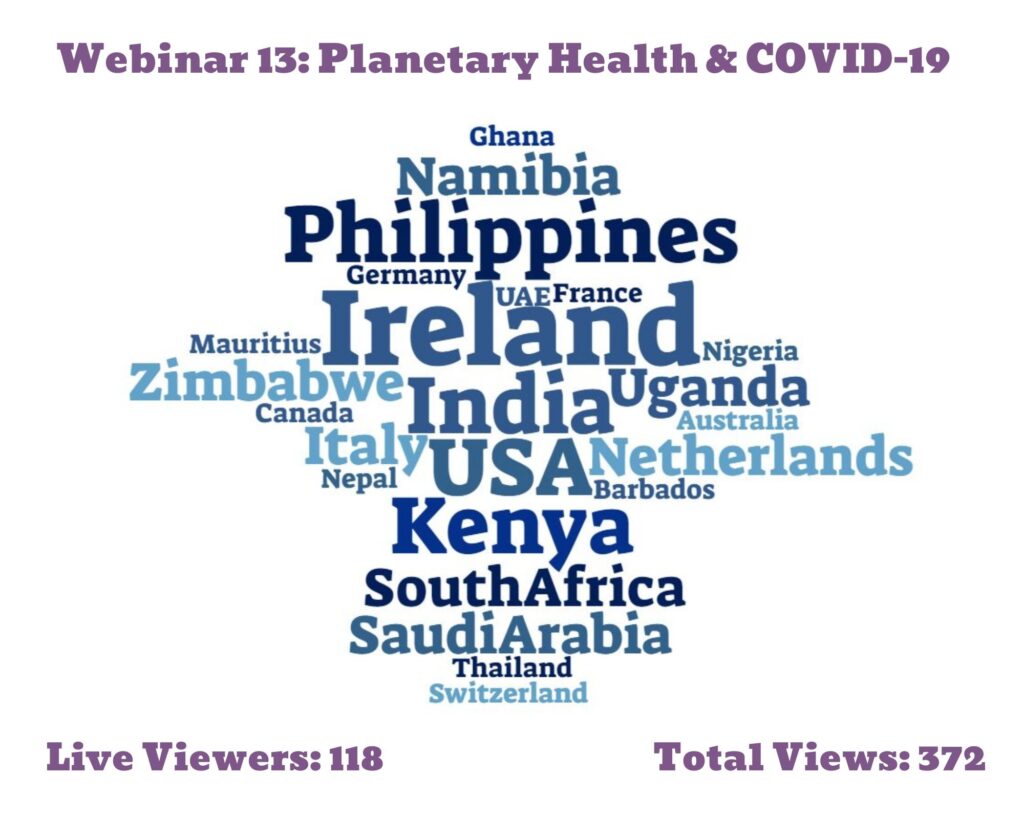 Subscribe to Newsletter
Sign up to become a member and receive our weekly updates