Conversations on COVID-19 14th Webinar: Leaving No One Behind – Keeping up Essential Services for NCD Patients in Ethiopia during the Time of COVID-19 Response
June 17, 2020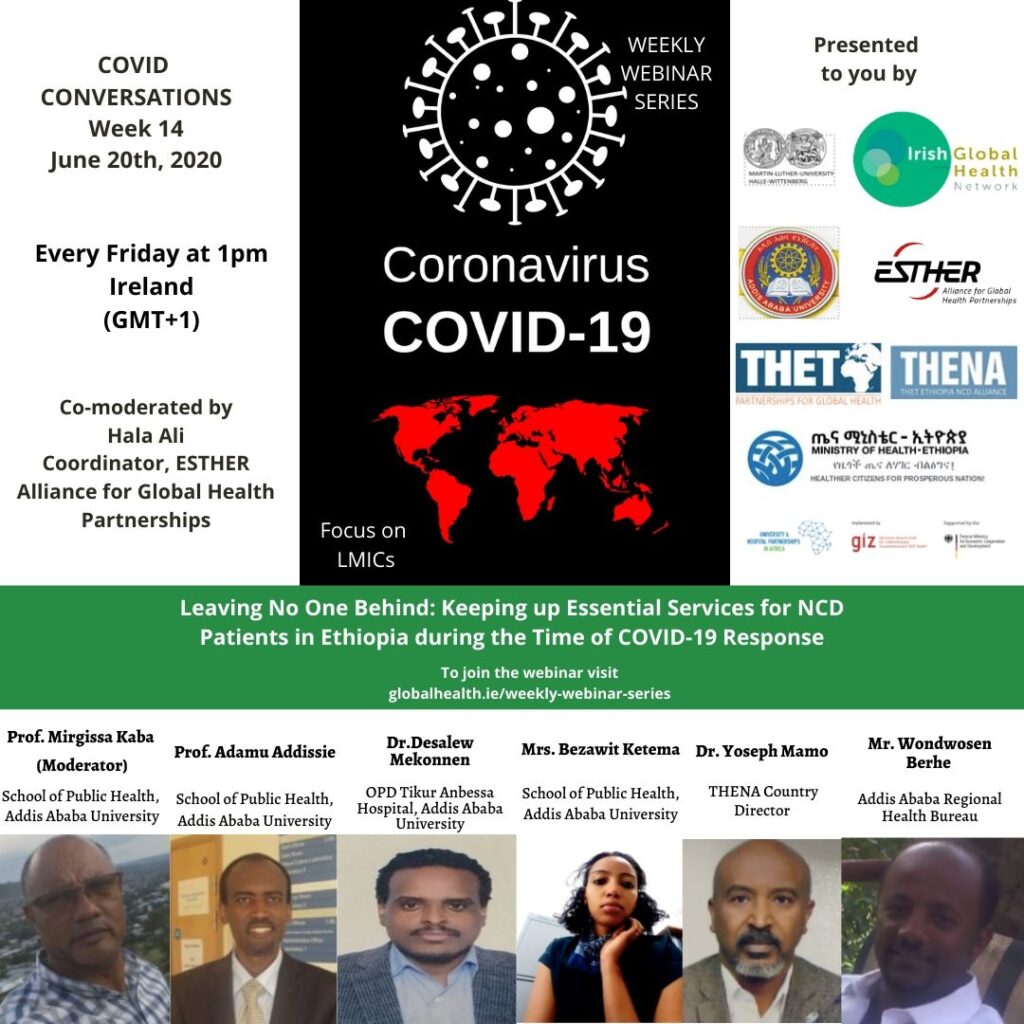 WEBINAR SERIES: WEEK FOURTEEN Leaving No One Behind: Keeping up Essential Services for NCD Patients in Ethiopia during the Time of COVID-19 Response
The fourteenth webinar was held on Friday 19/06/2020 at 12:00 pm GMT/1PM Irish Time.
This webinar is presented by NCD group of the School of Public Health, Addis Ababa University collaborating with Martin-Luther-University Germany, The Ethiopian NCD Alliance, THET partnerships for Global Health UK, University- and Hospital-partnerships GIZ Germany, hosted by the European ESTHER Alliance & IGHN.
For more information about GIZ, CLICK HERE
For more information about THET, CLICK HERE
The full suite of resources shared by speakers is available under each of their individual recordings, along with a summary of the points they made. A full list of additional resources shared by participants and hosts during the webinar can be found at the bottom of the page.
VIEW THE WEBINAR
---
Your feedback is important to us so that we can continue to share learnings, insights and practices relevant to those working in the LMIC community. Please take the time to complete our evaluation at the button below so that we can continue to improve the series.
COMPLETE WEBINAR EVALUATION
---
A SUMMARY OF POINTS MADE
Dr. Adamu Addissie, Medical Doctor; Preventative Medicine, School of Public Health, Addis Ababa University
Download Dr. Adamu's Slides here
To find out more about

Prof.

Adamu

Addissie, CLICK HERE
Mrs. Bezawit Ketema; PhD cand. at Martin-Luther-University, Halle; Clinical Nurse; Lecturer, College of Health Science, Addis Ababa University
Download Mrs. Bezawit's Ketema Slides here
Dr. Desalew Mekonnen, Consultant Internist/Cardiologist at Tikur Anbessa Specialized Hospital, College of Health Sciences, Addis Ababa University
Dr. Yoseph Mamo, Leading HPA/THET efforts to support MOH to decentralize of NCD prevention and control program; THENA County Director
Download Dr. Yoseph's Brief Powerpoint Here
To find out more about Dr. Yoseph Mamo CLICK HERE
To find out more about Thena CLICK HERE
Wondwosen Berhe, NCD team leader, Addis Ababa Regional Health Bureau
To find out more about Tikur Anbessa Hospital CLICK HERE
Webinar Anchor: Ruairi Brugha, Professor Emeritus, RCSI
To view his contribution, click here
Download Ruairi's Presentation
Webinar Resources:
FULL WEBINAR ARCHIVE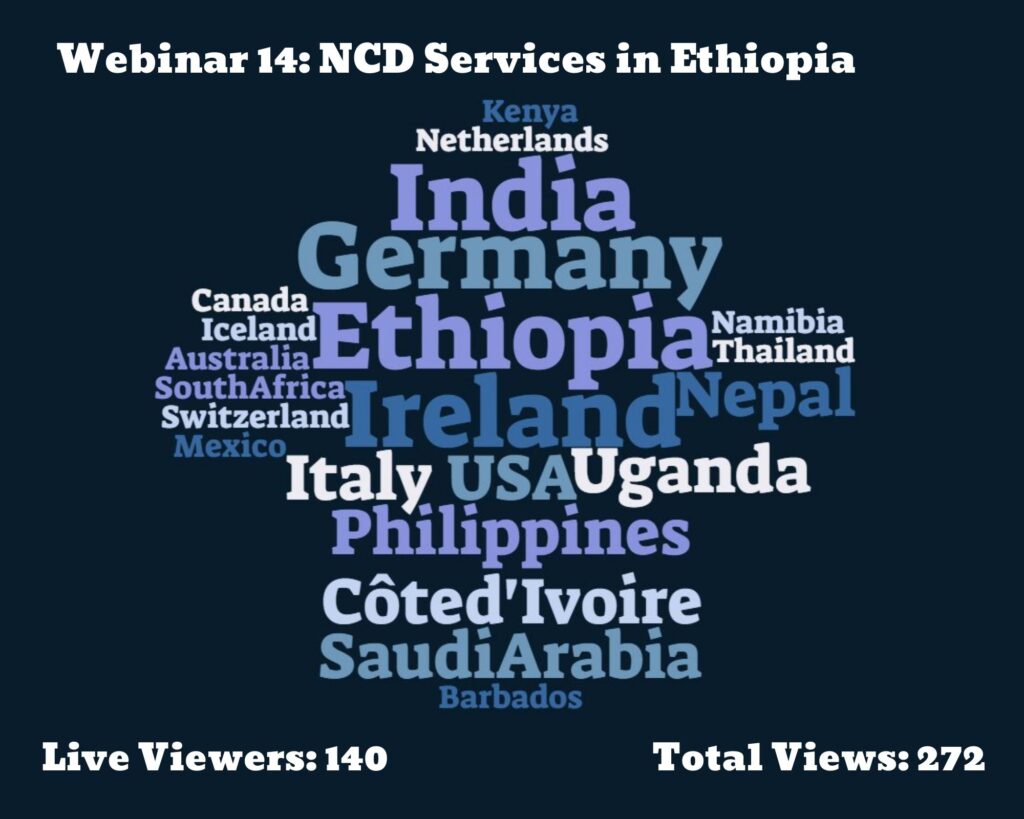 Subscribe to Newsletter
Sign up to become a member and receive our weekly updates