Conversations on COVID-19 6th Webinar: The Impact of COVID-19 on Mental Health, Stigma and Vulnerable Groups
May 9, 2020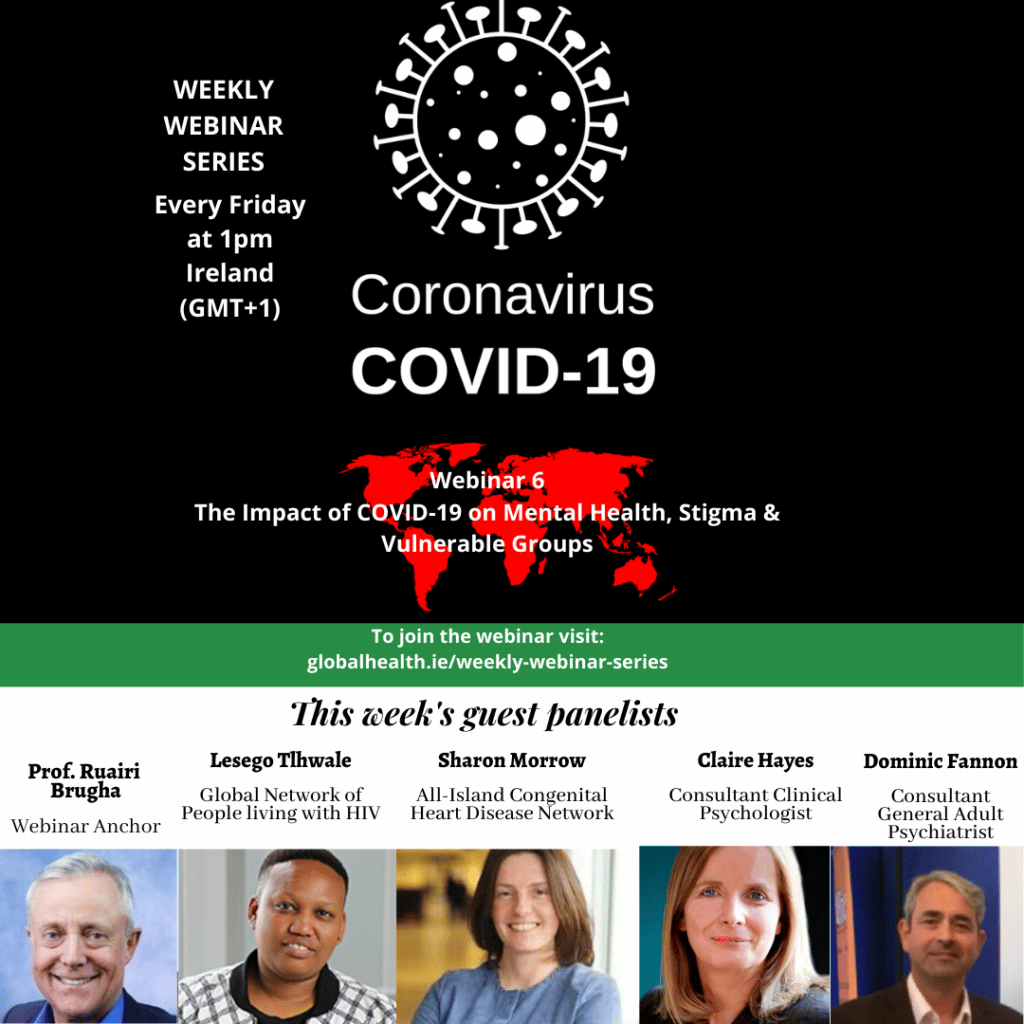 WEBINAR SERIES: WEEK SIX The Impact of COVID-19 on Mental Health, Stigma & Vulnerable Groups
The sixth webinar was held on Friday 24/04/2020 at 12:00 pm GMT/1PM Irish Time.
VIEW THE WEBINARCOMPLETE WEBINAR EVALUATION
A SUMMARY OF POINTS MADE
Sharon Morrow – Nurse, Night Site Manager for Tallaght General Hospital, Director at All-Island Congenital Heart Disease Network
Sharon described the front line of this pandemic on a daily basis. Tallaght Hospital has been busy, but have not seen the surge in patients expected, in part due to the diligent preparation done by the hospital.
Staff are put under more pressure due to further PPE regulations, continuous changing of staff due to testing/social isolation regulations, and are often tired/dehydrated. However, everyone is striving to stay as positive as possible.
She spoke about the mental challenges faced by staff eg. Loved ones being unable to see very sick family members, the mental toll of higher rates of death in hospitals etc. She also had suggestions for the sorts of mental health supports health workers might need – giving the example of "NOVID rooms" to relax and not speak about the pandemic.
Claire Hayes – Consultant Clinical Psychologist
Claire spoke to the biggest challenges for health workers, speaking about both external and internal demands on head space:
External: Patients & Staff frustrations and anxiety, increased PPE, Media etc.
Internal: Pressure we're putting ourselves under, anxious thoughts, hopelessness etc. – these pressures are the ones that we can make efforts to address and balance.
Claire also provided tips for dealing with stress during this time: Acknowledging feelings & addressing negative thoughts in a healthy way, linking feelings to thoughts and focusing on what can actually be done, and choosing to seek support where possible.
To read Claire's article in the Irish Independent on coping with anxiety during the COVID-19 pandemic, CLICK HERE
Dominic Fannon – Consultant psychiatrist, HSE senior consultant with ImROC ( a UK based not-for-profit recovery-oriented service and
practice improvement organisation)
Dr. Dominic is currently collaborating with mental health services in Gujarat, India, where (at time of recording) there are 23,000 cases, 720 deaths approx.
India typically has a weaker health system, relies mainly on agriculture, and has a high rate of internal migration – each of these has a negative impact on disease transmission. More testing, PPE, and trained personnel are needed.
Mental health affect of COVID-19 in India has already been seen: Impact on mentally stable people, impact on people with existing mental health difficulties (exacerbated by poverty etc) , and the impact on healthcare workers specifically. There has been a spike in both alcohol abuse and suicide, but largest impacts are seen by the most economically vulnerable groups, living in conditions where extra hygiene measures are not possible. Stigma is also emerging around the spread of the disease.
Dr. Dominic has published a document on Self-Care and Support for Healthcare Workers and their Managers in Dealing with COVID-19 in Low Resource Settings
Lesego Tlhwale – Media and Advocacy Officer, works with Global Network of People Living with HIV, South Africa.
Stigma is experienced daily by the most vulnerable groups: people who use drugs, sex workers, men who have sex with men etc. COVID-19 not only creates new stigma, but can effect the way of life of these highly vulnerable people. Sex workers are put at further risk while seeking work, those living with HIV face medication shortages, etc. – forces disclosures become a problem during lockdown. The stigma surrounding this virus is in many ways reminiscent of the HIV crisis and this stigma and misinformation has a detrimental effect on mental health. Education around these topics is vital.
GNP+ works practically by creating networks and communities within vulnerable groups in LMICs – these groups have in many cases begun to help their governments to disseminate accurate and effect information on HIV to the public. A Human Rights-based lens is used to ensure that stigma is reduced through these public information campaign. Vitally, members of these vulnerable communities take an active role in these endeavors.
GNP+ has created "Lessons learnt from the HIV response for COVID-19: Building community resilience"
Webinar Anchor: Ruairi Brugha, Professor Emeritus, Former Head of the Department of Public Health & Epidemiology at the Royal College of Surgeons in Ireland
View his COVID-19 stats summary here
Download Ruairi's Powerpoint Presentation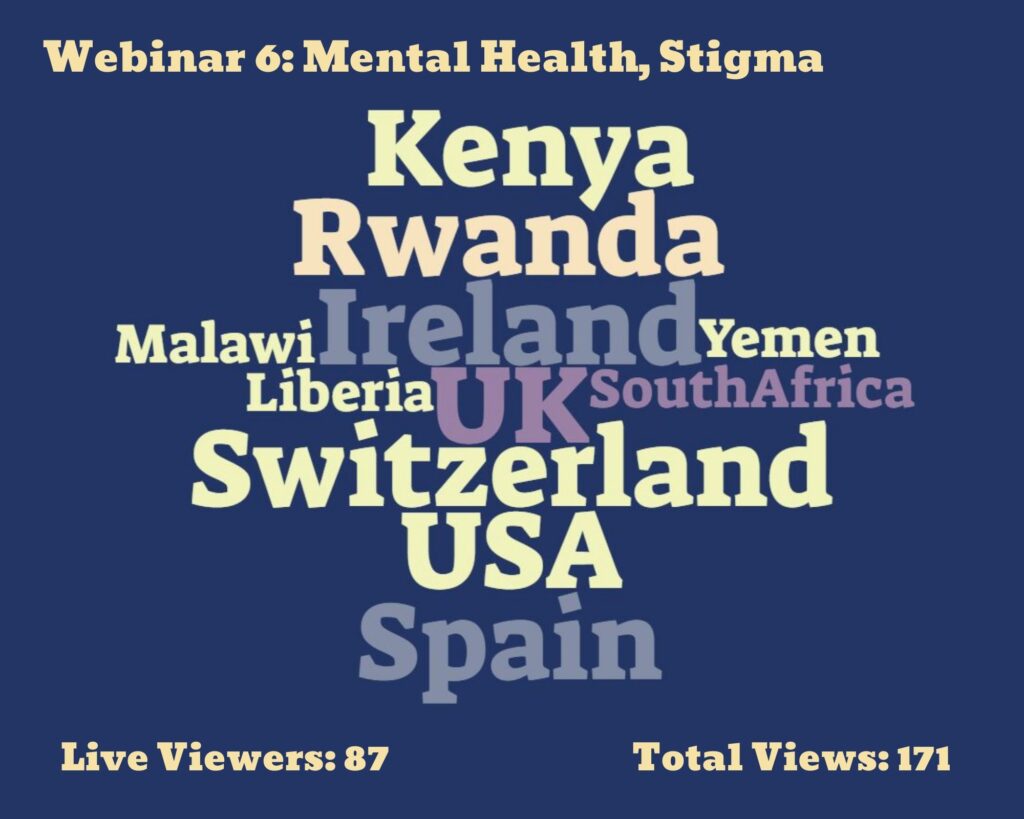 Subscribe to Newsletter
Sign up to become a member and receive our weekly updates