Conversations on COVID-19 10th Webinar: Protecting Health Care Workers During the COVID-19 Pandemic
May 22, 2020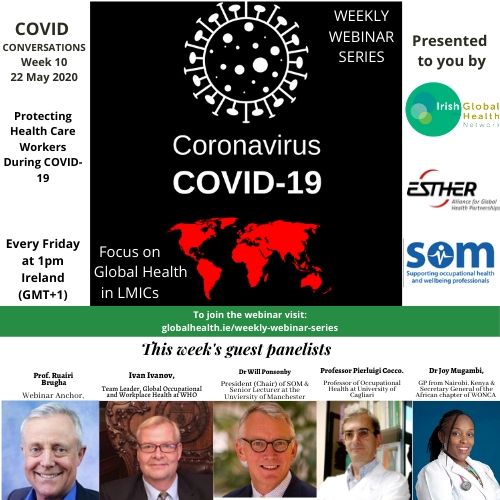 WEBINAR SERIES: WEEK TEN Protecting Health Care Workers During the COVID-19 Pandemic
This week's webinar was co-hosted by the Society of Occupational Medicine (SOM).
The tenth webinar was held on Friday 22/05/2020 at 12:00 pm GMT/1PM Irish Time.
The full suite of resources shared by speakers is available under each of their individual recordings, along with a summary of the points they made. A full list of additional resources shared by participants and hosts during the webinar can be found at the bottom of the page.
---
VIEW THE WEBINAR
---
Your feedback is important to us so that we can continue to share learnings, insights and practices relevant to those working in the LMIC community. Please take the time to complete our evaluation at the button below so that we can continue to improve the series.
COMPLETE WEBINAR EVALUATION
---
A SUMMARY OF POINTS MADE
Dr. Ivan Ivanov: Team Leader, Global Occupational and Workplace Health Team in the Headquarters of the WHO, Geneva.
– Currently serves as occupational health officer in the COVID-19 response team of WHO's Global Emergencies Programme.
To view his contribution, click here
As of 20th May 2020, countries reported to WHO that over 45,000 health workers were infected with COVID-19. The true number is likely significantly higher due to under-reporting. These infections are due mainly to insufficient hand hygiene, lack of PPE/insufficient compliance with regulations, and many community transmissions due to lack of physical distancing in the general population.
There is an increasing level of violence and social stigma being seen against health workers. WHO has made clear it's zero tolerance policy for violence against health workers. Furthermore, medical practitioners also face long working hours, shift work, high workload and other psycho-social hazards – this can lead to fatigue, occupational burnout, increased psychological distress or declining mental health. This data shows that we are not providing sufficient protections for healthcare workers globally. Workplace safety regulations are not sufficient, countries are now encouraged by the WHO to develop regulations specifically for healthcare workers. In LMICs, these issues are of particular importance. Dedicated supervisors for appropriate oversight of these guidelines are vital.
To view slides on Dr. Ivan's points, CLICK HERE
Resources suggested by Dr. Ivan:
Dr. Will Ponsonby: President (Chair) Society of Occupational Medicine
– Senior Lecturer in Occupational Medicine for the MSc in Occupational Medicine, University of Manchester.
To view his contribution, click here
"Hierarchy of Control" is a risk prevention tool: PPE is just one of many controls that can be used in addressing infectious disease
– Eliminate the hazard: Good COVID-19 testing, seperate COVID and Non-COVID wards in hospital
– Substitution of various controls to ensure best approach
– Environmental/Engineering controls: Ventilation, screens etc.
– Administrative controls: Testing, removing vulnerable healthcare workers etc

In LMICs, seperation of infected patients and other illnesses is vital, along with engineering controls and identification of vulnerable staff.
Occupational risk assessment is necessary to identify co-morbidity and mental health of workers, to ensure that vulnerable healthcare workers are supported. The UK was unprepared for a pandemic such as this, and so control mechanisms were inadequate. Lack of testing and lack of focus on non-hospital settings ie. Care homes etc also drove the increase in cases. Over 500 healthcare workers have died of COVID-19 in the UK, and this has disproportionately affected black and asian British workers.
Dr Will has published the following article: " No NHS staff member should die from work-acquired COVID-19"
Professor Pierluigi Cocco: Professor of Occupational Medicine at the University of Cagliari
– Member of both the Modernet Consortium of the EU Occupational Health centres & the Planetary Protection Working Group of the European Space Agency.
To view his contribution, click here
A lack of preparedness led to the surge of cases in Italy, and a lack of information on the disease often led to healthcare workers taking more risks with their own health both mental and physical. Therefore, burnout has been a significant problem, along with fear, stress and anxiety.
In March, the Italian government, unions and employers organisations agreed to a system for those vulnerable healthcare workers to be furloughed. This required a huge amount of work to balance workers' health and staffing hospitals. There have also been increased suicide rates in healthcare workers, though these statistics will need to be analysed to determine definite cause.
Retired healthcare workers have been brought back, and new staff hired, in order to ensure workers have more reasonable shift hours and support. A new hospital was built in Milan, but efforts to make it operational was a failure – this serves as an example of how poor preparedness can seriously affect a country's disease response.
Suggested resource by Prof. Pierluigi: CDC Hierarchy of Controls Overview
Dr Joy Mugambi: General Practitioner, Nairobi, Kenya
– Secretary General of the World Organization for Family Physicians (WONCA), Africa region.
To view her contribution, click here
Kenya's government began with attempts to eliminate exposure of vulnerable health care workers to COVID-19. PPE shortages were again seen here, but industry moved speedily to provide more stock, and shortages are not now as dire as at the outbreak. Kenya's experience of diseases like ebola also left staff with experience to draw on rapidly.
To view her image presentation on Kenyan control measure of the virus, CLICK HERE
"Coughers" are segregated from other COVID-19 patients, and all healthcare workers are trained to test for the virus, rather than specific testing staff. Community testing has also been deployed as much as possible, including postmortem testing.
Shifts have been divided into three shifts, and group debriefs are held for all staff – this has helped with supporting staff mental health.
"Community engagement is key in everything we do"
Webinar Anchor: Ruairi Brugha, Professor Emeritus, Former Head of the Department of Public Health & Epidemiology at the Royal College of Surgeons in Ireland
View his COVID-19 stats summary here
Download Ruairi's Powerpoint Presentation
Resources shared by Prof. Ruairi:
We also included a sample of the new ESTHER Short Video guidance series: Preparing Your Institution for COVID-19
Find it HERE: Preparing Your Institution for COVID-19, part 1 of 3: COVID-19 Patient Flow
Further Resources:
Shared by IGHN:
– Shared by Breda Gahan, Concern Worldwide:
Shared by Nick Pahl, CEO of SOM:
FULL WEBINAR ARCHIVE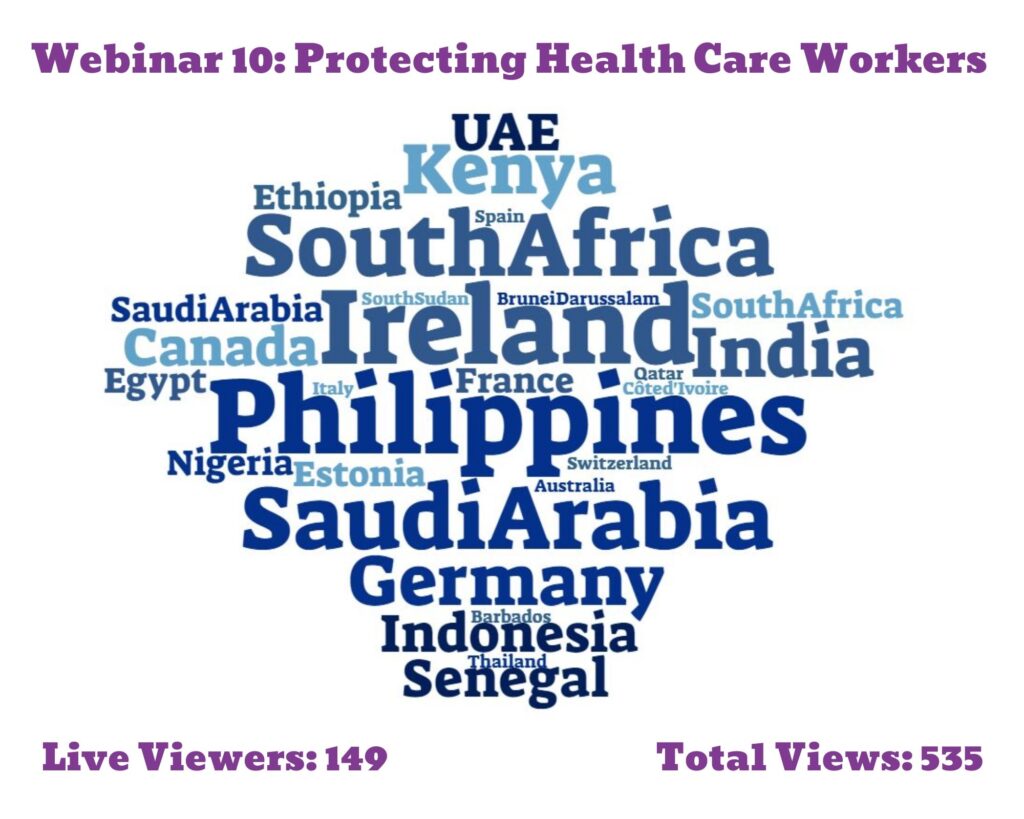 Subscribe to Newsletter
Sign up to become a member and receive our weekly updates