Climate Change and Health – the Challenges and the Opportunities
July 30, 2017
About this conference
Climate change is "The greatest threat to global health in the 21st century"*. The direct and indirect impacts of climate change threaten to hinder progress in global health and destroy some of the gains made over the last 150 years. As always, it is the most vulnerable including children, who bear the brunt of these threats. [*Costello et al., Lancet, 2009]
There is now an urgent need to discuss and plan action to address the challenges, and also the opportunities, which we now face in relation to climate change and health. NUI Galway will host a new conference: Climate Change and Health: The Challenges and Opportunities, on Friday 22nd September 2017, in partnership with the Irish Forum for Global Health, the Development Studies Association of Ireland, the Health Services Executive, the Ryan Institute, Trocaire, and Irish Aid.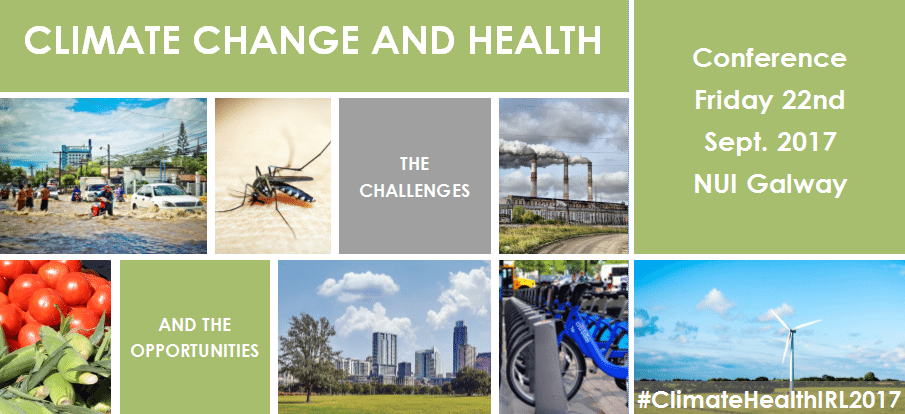 This exciting one-day conference will firstly raise awareness of the issue of climate change and health to a wide stakeholder group in Ireland. Secondly, it will facilitate the networking of stakeholders who have an interest in and a responsibility with respect to climate change and health. Third, the conference will help generate momentum to establish advocacy positions and actions in response to the threats and opportunities posed by climate change focusing on developing countries and Ireland.
Invited climate change expert speakers include:
Dr. Nicholas Watts, Executive Director, Lancet Countdown: Tracking Progress on Health and Climate Change
Joni Pegram, Senior Policy and Advocacy Advisor, UNICEF UK
John O'Neill, Principal Officer, Dept. of Communications Climate Action & Environment, Govt. of Ireland
Dr. Ina Kelly, Consultant in Public Health, HSE
Dr. Jonathan Derham, Head of Climate, Research, and Resource Use Programme, Environmental Protection Agency
(Additional speakers tbc)
All are invited to attend, and the conference will be of particular interest to researchers, students, policymakers, and members of civil society organisations and NGOs working in the intersecting areas of climate change and health. Click here to register! Please note – participants must register in advance to ensure accurate numbers for catering.
Subscribe to Newsletter
Sign up to become a member and receive our weekly updates