A quick guide to Safe Shopping during the Coronavirus (COVID-19) Pandemic
March 30, 2020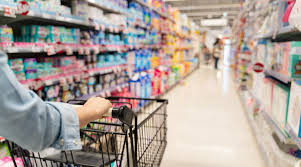 The lack of consistent hygiene standards in supermarkets across Ireland has prompted the Irish Global Health Network in partnership with the Environmental Health Association of Ireland and the Chartered Institute of Environmental Health in the UK to release guidelines for shoppers to help reduce the incidence of the highly infectious disease.
DOWNLOAD THE SAFE SHOPPING GUIDELINES HERE
The guidelines released today set out a number of protocols to help the public protect themselves while at the store, including: using the non-dominant hand to pick up goods which subsequently reduces the cross contamination risk from touching of the mouth, nose or eyes; making contactless payments and avoiding contact with surfaces of any kind. Further, because of the capacity of the virus to live on surfaces, shopping trolleys, baskets, pin pads, and other regularly touched items should be sanitised after each use.
Despite some supermarkets exercising caution with standards improving in recent days, the inconsistency in upholding standards is worrying.
Members of the Irish Global Health Network have called for more detailed guidance, comprehensive practice by supermarkets and oversight by relevant authorities to ensure both staff and the public are protected. Supermarkets need to enhance existing procedures such as social distancing to enable shoppers protect themselves and the frontline staff who are most at risk.
In the meantime, the Irish Global Health Network are urging customers and staff to remain vigilant. The lack of clear controls on the numbers of people entering the store, the exposure of baked goods and fresh produce, along with the lack of facilities for handwashing are posing a severe threat to shoppers.
No reported cases of COVID-19 have been linked to contaminated food. The main risk to shoppers is coming into contact with an infected person. You are urged to wash your hands frequently, maintain good hygiene practices and minimise contact with people outside of your household.
This guide will help you to stay safe and protect others when shopping for essentials. Please note that this guide is based upon current advice at the time of publication (27 March 2020).
This guide includes advice on the following:
Before shopping
Is your supermarket doing enough?
During shopping
After shopping
Subscribe to Newsletter
Sign up to become a member and receive our weekly updates