IGHN Summer School – Global Health in Changing Times
July 6, 2023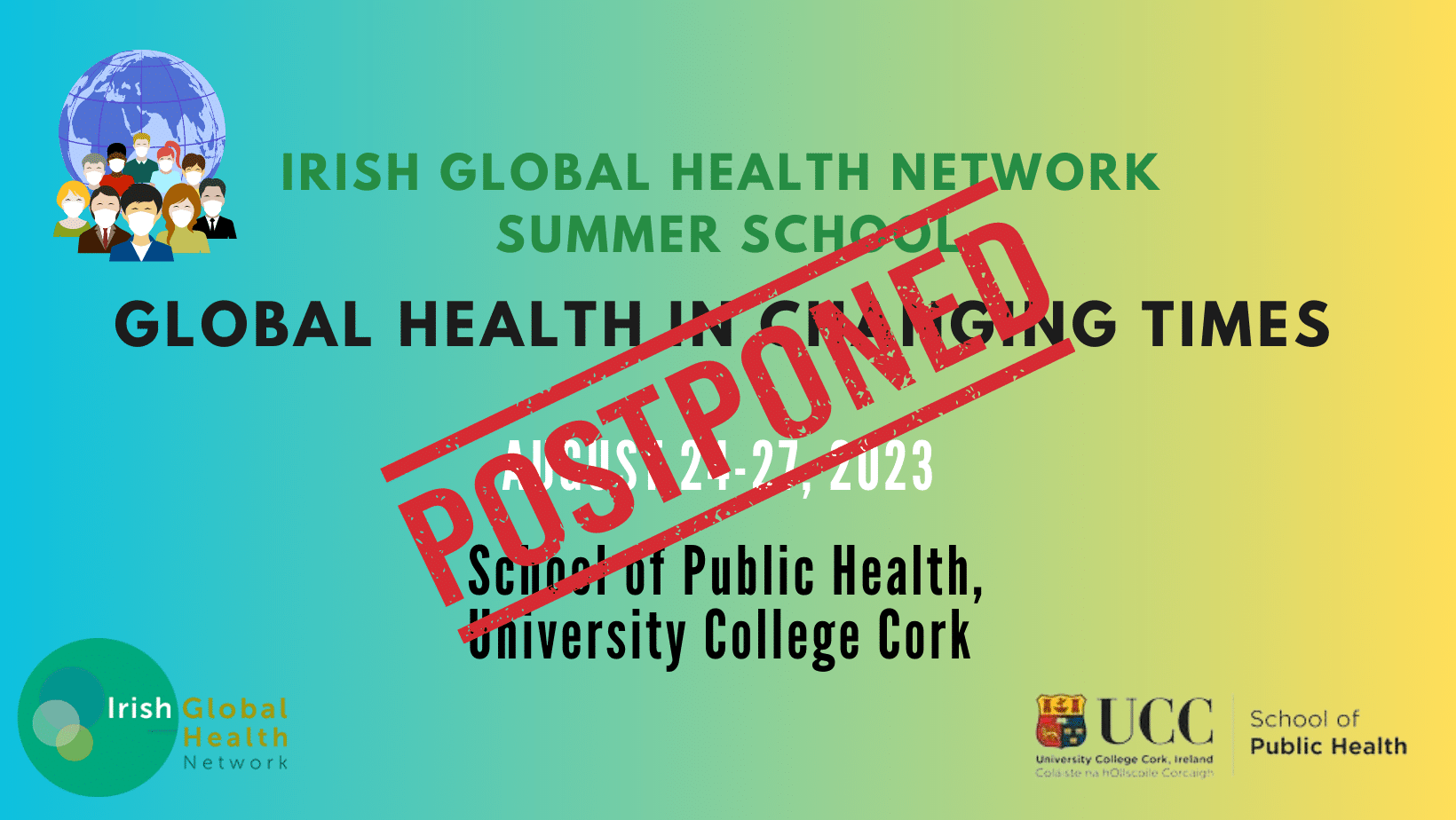 Organisers: Irish Global Health Network and School of Public Health, University College Cork
When: TBC
Where: University College Cork
School's Out For Summer – But In for Winter!
Due to unforeseen circumstances, The Irish Global Health Network and the School of Public Health University College Cork, have had to postpone the upcoming Summer School 24-27 August 2023. But don't worry it will still take place, just a little later. The School will be rescheduled for early 2024, with the exact dates TBC; updates will be posted on the IGHN website as soon as available.
On behalf of ourselves and the School of Public Health, UCC, we would like to thank everyone for the interest and enthusiasm shown in the Summer School, the response has been fantastic.
We look forward to sharing updates and to welcoming you to the Global Health Winter School in 2024.
Background
When the Irish Global Health Network (IGHN) was founded back in 2005, making global health education available and of a high quality across the Island of Ireland was a key goal. Since then, global health education can be found in most Universities and is embedded in many undergraduate and postgraduate courses.
At IGHN, we have access to the most updated content on global health and the Network brings together experts from a wide range of disciplines. In 2023, we will create accessible and accredited short course global health education training programmes for healthcare professionals, students and young professionals wanting further education, and all those who are interested in upskilling in global health.
Theme
In this context, the Global Health Summer School 2023 three-day training programme will be convened under the overarching theme Global Health in Changing Times, including sub-themes such as Global Mental Health, Global Health and Migration, Emergency and Disaster Preparedness.
About the Summer School
The IGHN summer school will run over four days, from Thursday evening to Sunday afternoon, consisting of two full days and two half days of training. Training will consist of lectures delivered by UCC lecturers and researchers, IGHN staff and network members with expertise in Global Health.
The summer school will act as a platform for networking and capacity building. The course is multi-disciplinary and is open to learners with a wide variety of backgrounds. The target audience for the course is postgraduate students, healthcare professionals and those seeking to embark on a career or further study in Global Health. Attendees will gain critical knowledge of the key principles of global health and gain the skills needed to contribute to discussions related to global health. Attendees will learn about the role of the sustainable development goals in addressing global health challenges while developing skills in collaborative learning. Opportunities to network are embedded throughout the day and at evening events. We hope our summer school alumni will continue to connect with one another through the Irish Global Health Network, this summer school is hopefully the first of many training courses and events we will provide in the future.
Target Audience
The target audience for the summer school is postgraduate students, early-career professionals and healthcare professionals, looking to further their knowledge of Global Health. Also those seeking to embark on a career or further study in Global Health.
Subscribe to Newsletter
Sign up to become a member and receive our weekly updates