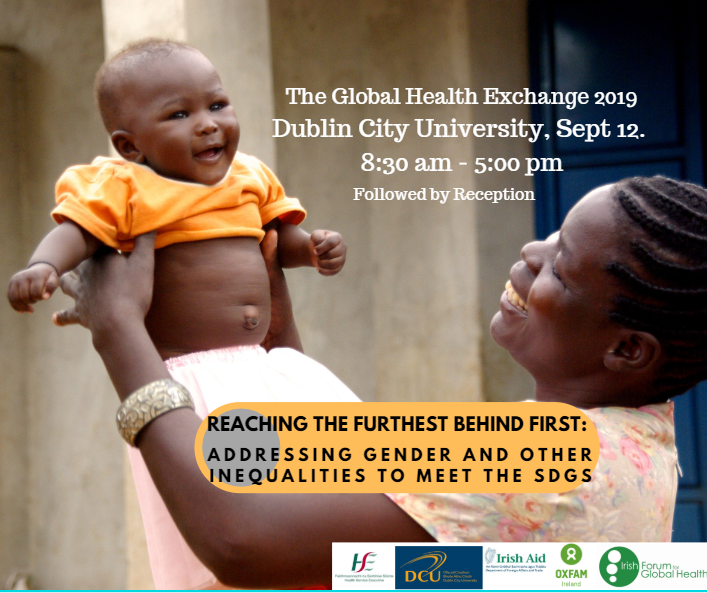 The Irish Forum for Global Health (IFGH) will co-host this year's Global Health Exchange Conference with the HSE, Oxfam Ireland and Dublin City University. The conference is being held under the theme: Reaching the furthest behind first: addressing gender and other inequalities to meet the SDGs.
Context
The Irish Forum for Global Health is committed to Reaching the Furthest Behind First. In the current context of major global challenges such as climate change, increasing urbanization and air pollution, conflict and humanitarian disasters, displacement and forced migration, rising malnutrition levels globally, population growth and rising inequalities, IFGH's annual theme for 2019 is: Equity, health and the SDGs.
A central thread throughout the Sustainable Development Goals (SDGs) is: leaving no-one behind. Yet, little more than two years after they came into effect, the UN SDG 2018 report states 'Progress to ensure that no-one is left behind has not been rapid enough to meet the targets of the 2030 agenda and this necessitates immediate and accelerated action by the countries and stakeholders at all levels'.
Achieving the SDGS – Reaching the Furthest Behind First
At the heart of the new Irish Aid policy – A Better World is a focus on inequality and inclusion. In particular, the policy highlights the importance of gender equality as key to achieving all SDGs
Reflecting on Ireland's commitment to meeting the SDGs at home and abroad, this one day Global Health Exchange Conference will:
Facilitate a space that brings stakeholders together to exchange cross-sectoral and cross-disciplinary global health learning and experiences
Focus on lessons drawn from policy and programme implementation, evaluation, research and practice
Strive to inspire improved ways of working collaboratively.
Across all areas of global health, in particular we seek to emphasize:
Gender equality and women's empowerment
Sexual reproductive health and rights
Global health leadership
Health and nutrition
Inequalities that affect health (for example issues related to mental health, climate change, etc)
How we would like you to get involved and engaged with this event:
We invite participation from and engagement by practitioners, researchers and decision-makers from the global health and broader development and humanitarian assistance communities.
The formats available for presenters/discussants and participatory activities will include:
Plenary speakers who will inspire and inform
Moderated panel discussions to share voices and experiences
Roundtable discussions that involve all who wish to participate
Posters
'Oral Soapbox Snapshot' for opinions, ideas, projects or research
Global Health Village for organisations and individuals to share activities, achievements and aspirations
Short videos
Other formats (please suggest)
We will actively encourage discussions between presenters and participants across the full event, so would like to encourage you to commit to participating for the full day.
Please note there is a separate registration process.
To register for the Global Health Exchange: click here.
Registration fee:
120 euros – general admission
15 euros students/ unwaged/ senior citizens
Group discounts for a minimum of five people are available at 20% discount
Programme (TBC)
12 September
8.30 am: Registration
Ends 5.00 pm, followed by reception
GETTING THERE
Venue: School of Nursing and Human Sciences building, Dublin City University (DCU),  Glasnevin campus, Collins Avenue Dublin 9, see
The School of Nursing and Human Sciences building is just inside the Collins Avenue entrance on the left. It is called 'Nursing' on this map.
Public transport is also available details here.
Car parking is available in the multi-storey car park around to the right from the Collins Avenue entrance, take a ticket upon entry, and pay before exit.
OVERNIGHT ACCOMODATION
Accommodation is available at Dublin City University, please email reservations@dcu.ie for details. Single occupancy rooms cost €90 per night, or €120 for doubles. Alternatively, hotels in the area include the Skylon, Crowne Plaza Santry, the Bonnington.
The Irish Forum for Global Health is grateful for the support of the hosts and supporters of this event: Irish Aid, Oxfam Ireland, the HSE and DCU.